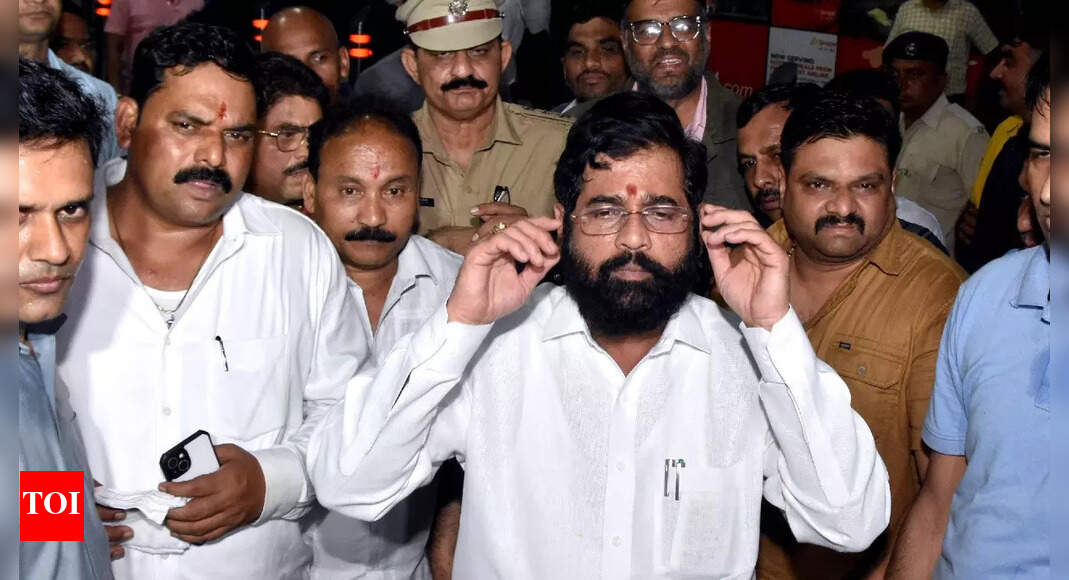 Rebellion Maharashtra MLAs lead by Eknath Shinde on Wednesday. (TOI photo)
NASHIK/AURANGABAD/KOLHAPUR: The rebel Shiv Sena MLAs and ministers who have joined the Eknath Shinde camp have told the Thane strongman that they will neither quit the party nor form a separate outfit. Shinde assured them that they would not have to leave the party and he would "eventually convince" 'saheb' (party chief Uddhav Thackeray) about their stand, some of the MLAs told TOI from Guwahati.
Shinde, who already had the support of three ministers, got the backing of two more ministers – Gulabrao Patil and Rajendra Patil-Yadravkar – on Wednesday evening. Patil, a Sena cabinet minister and MLA from Jalgaon rural, told TOI that all four Sena MLAs from Jalgaon as well as the independent backing the party have decided to go with Shinde. "I feel it is prudent to join hands with Shinde. I still consider Uddhav Thackeray as our party chief. But in the current situation, when the majority of the party MLAs have sided with Shinde, we have no other option but to join that group," he said.
Apart from Jalgaon, Sena has taken a hit in another stronghold, Marathwada. Till Wednesday evening, eight of the 12 MLAs from the region had pledged support to Shinde. These rebel MLAs were also not ready to quit the Sena. Sources told TOI they have been assured by Shinde that they will remain in Sena, and that he would convince Matoshree in time.
"We know Shinde is among the closest people to Matoshree and the Thackeray family. We have been assured that the differences with the party chief and his family will be resolved within no time of forming a government with BJP," said an MLA.
Chimanrao Patil, Sena MLA from Erandol in Jalgaon, joined the Shinde camp on Wednesday. He said he did not want to comment on Thackeray's offer to resign as CM if the rebel MLAs ask him to. "He is our party boss and is within his right to make statements. But the party leadership must understand that we want to severe ties with Congress and NCP as it will harm Sena politically," said Patil, who is in Guwahati.
Chandakant Patil, independent MLA from Muktainagar, Jalgaon, said Sena must have an alliance with BJP since both are "natural allies". The rebel MLAs admitted most of them had initially refused the offer to go with Shinde, citing the electoral cost they would have to pay for quitting the party and making Thackeray resign as CM. "We understand the cost we'll have to pay if those who voted for us in the name of Sena conclude that we have backstabbed the Thackeray scion," said a Sena MLA from Marathwada who is in Assam.
FOLLOW US ON SOCIAL MEDIA
FacebookTwitterInstagramKOO APPYOUTUBE