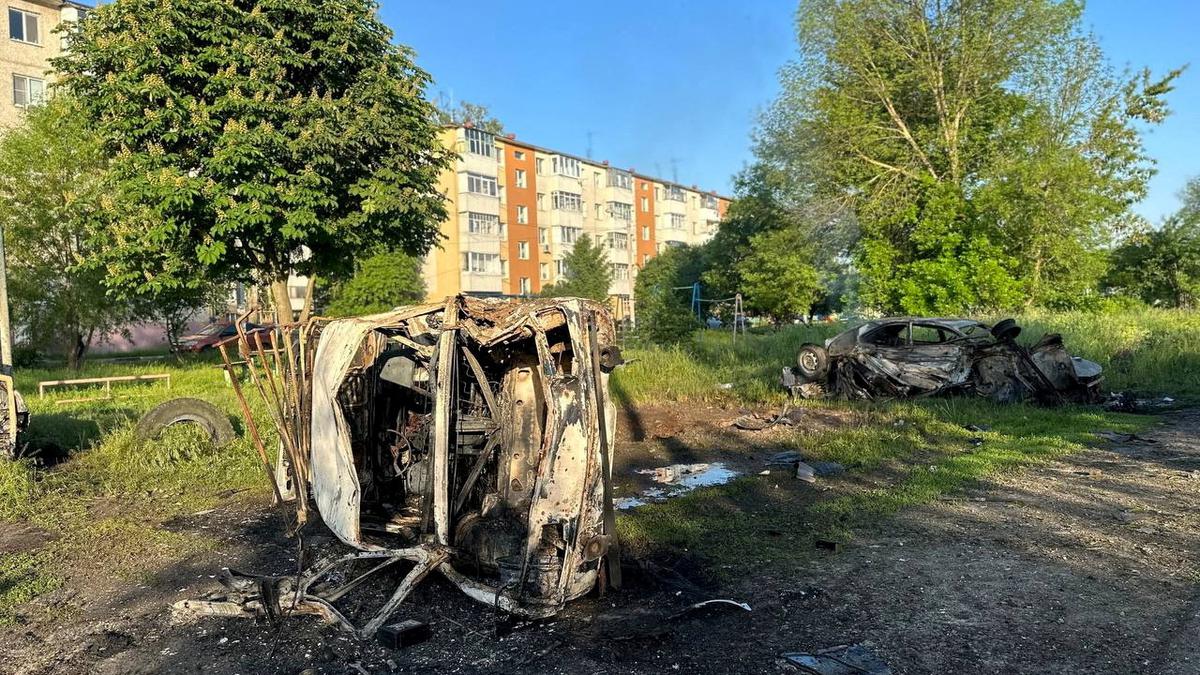 Two civilians were killed on Friday in shelling on Russia's Belgorod region on the border with Ukraine, while Kyiv was hit by Russian strikes overnight for a sixth day in a row.
The Ukrainian capital has seen almost nightly air raids in May after being relatively spared in the beginning of the year.
Strikes have also intensified in the Belgorod region, which has been hit by shelling and border incursions recently.
"Shrapnel hit cars passing by. Two women travelling in one of them died on the spot from their wounds," Belgorod governor Vyacheslav Gladkov said.
Two others were severely wounded by the shelling that hit a village in the Shebekino district, while other settlements were also hit without any reported casualties.
The head of the Shebekino district, Vladimir Zhdanov, said authorities were continuing to evacuate people but faced difficult conditions.
"Unfortunately, it is impossible to organise mass departure by bus or to gather people at a particular point… because of shelling risk," Mr. Zhdanov said.
Residents from Shebekino have been pouring in to displaced centres of the regional capital of Belgorod since Thursday, following another armed incursion attempt.
"There are many families with children, including infants and disabled people. We will try to provide them with as much care as possible," Belgorod mayor Valentin Demidov said Thursday.
Governor Gladkov said 2,500 people were being put up in various temporary centres in the region, including the regional capital's sports arena.
The Russian army on Thursday said it had used its air force and artillery to repel an attempt from the Ukrainian army to invade Belgorod.
The attack "involved up to 70 militants, five tanks, four armoured vehicles, seven pickup trucks and a Kamaz truck," the army said.
Asked about the uptick in incidents in Belgorod, Kremlin spokesman Dmitry Peskov denounced the silence from the international community despite "every opportunity to see the footage describing strikes on residential buildings, social infrastructure.".
The Kremlin has in the past accused the West of pushing Ukraine towards "reckless acts".
The United States has said it does not support attacks inside Russia and is instead providing Kyiv with equipment and training to defend itself.
The intensified strikes on Kyiv, far from the war's main hotspots in the east and south of the country, have raised questions on Russia's motives.
AFP spoke to experts who said the Kremlin would be seeking to hinder Ukraine's planned counter-offensive and deplete its air defences.
Ukraine said on Friday it had destroyed all 15 missiles and 21 drones from a new wave of overnight attacks that left two people wounded in Kyiv.
"In the last six days, (Russians) have already carried out six attacks on the city!" said the chief of the capital's city administration, Sergiy Popko, on Telegram.
On Thursday three people died, including a nine-year-old child, as a result of falling rocket fragments in Kyiv.
The husband of one of the victims, Yaroslav Ryabchuk, said the shelter where they routinely hid from Russian strikes was closed.
In a press conference in Moldova, Ukrainian President Volodymyr Zelensky said people would be "held responsible" for the closed shelter.
On Friday Kyiv mayor Vitali Klitschko said he had adopted decisions to control "round-the-clock access to shelters".
"The enemy is now shelling the capital with ballistic missiles," as well as cruise missiles, Klitschko told residents, explaining this meant they may only have "a few minutes" to hide.
He advised residents to shelter in their homes, with two walls of protection from the outside, "if you understand that you won't reach the shelter that quickly".