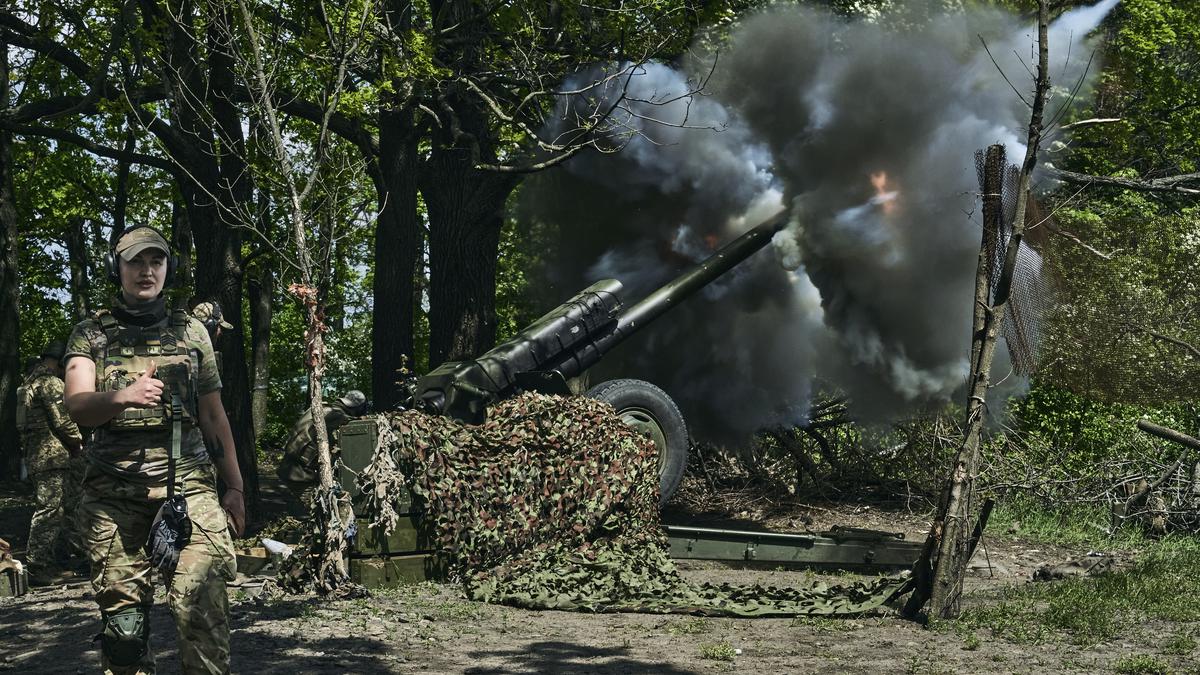 Russia said on May 14 that two of its military commanders had been killed in combat near the frontline hotspot of Bakhmut in eastern Ukraine.
In a rare announcement of its losses on the battlefield, the Russian defence ministry said the commander of the 4th motorised rifle brigade, Vyacheslav Makarov, and the deputy commander of the Army Corps for military-political work, Yevgeny Brovko, had been killed in fighting in eastern Ukraine.
The announcement came as battles raged for control of Bakhmut in the eastern region of Donetsk.
Colonel Makarov was killed as his brigade repelled attacks by Ukrainian troops south of the settlement of Krasne, the defence ministry said in a statement.
"Two attacks of the enemy have been repelled," the statement said. "As a third attack was being repelled, the brigade commander was seriously wounded and died during the evacuation from the battlefield."
Brovko was killed as Russian troops repelled attacks elsewhere, the ministry said, saying he "died heroically, having received multiple shrapnel wounds".
Referring to the mercenary group Wagner, Moscow said that "assault detachments" have continued to fight for control of western parts of Bakhmut with the support of airborne forces.
"Over the past day the enemy has made massive attempts to break through the defence of our troops to the north and south of Artemovsk," the ministry said, referring to Bakhmut by its Russian name.
"All attacks of the Ukrainian armed forces have been repelled," it said.
Russia has kept a tight lid on its losses in Ukraine.
Defence Minister Sergei Shoigu said last year that 5,937 Russian troops had been killed in the pro-Western country even though military analysts say Moscow has sought to hide the scale of its losses in Ukraine.
Ukraine troops, Western arms targeted in strikes: Russia
Moscow said that Russian forces had struck Western arm depots and Ukrainian troops in the western city of Ternopil and the eastern town of Petropavlivka.
Russia's armed forces "delivered a strike with high-precision long-range air and sea-based weapons at the points of deployment of the Ukrainian armed forces," the defence ministry said in a statement carried by Russian news agencies.
"Places of storage of ammunition, weapons and military equipment received from Western countries" were also struck, it said.
Ukraine 'not attacking Russian territory': Zelenskyy
Ukraine has no plans to attack targets inside Russia, President Volodymyr Zelenskyy said in Berlin after receiving a huge new military aid package ahead of an expected counter-offensive.
"We are not attacking Russian territory," Zelensky told reporters in Berlin. "We have neither the time nor the strength to do so and we have no weapons left with which to do so. We are preparing a counterattack to de-occupy the illegitimately conquered territories," he added.