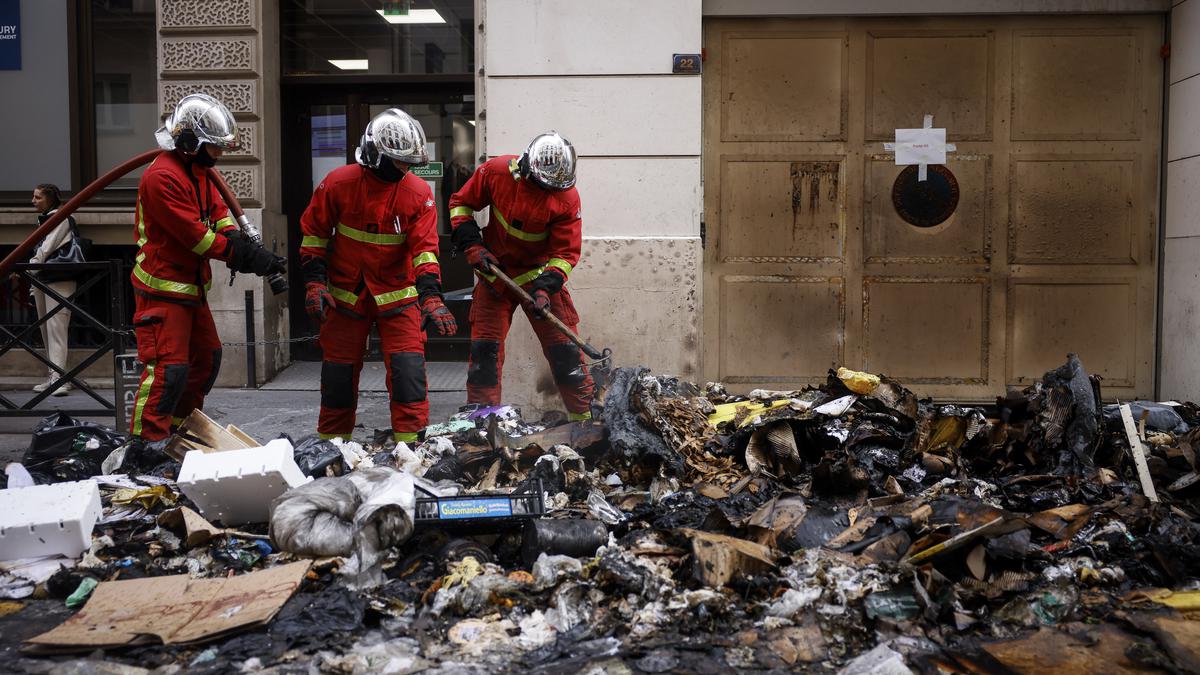 Protesters angry at French President Emmanuel Macron's pension reforms continued with scattered actions on March 24, as the unrest across the country led officials to postpone a planned state visit by Britain's King Charles III.
Although no major protests were planned on Friday, train traffic was slowed, rows of trucks blocked access to Marseille's commercial port and debris still littered the Paris streets following the previous day's mass demonstrations.
Over 450 protesters were arrested in Paris and beyond on Thursday as some 300 demonstrations drew more than a million people nationwide to protest against unpopular pension reforms.
Interior Minister Gerald Darmanin said Friday that some 441 police and gendarmes were injured as violence marred some marches.
He added that 1,000 trash bins were set on fire in the French capital during the previous day's action. Amid weeks-long refuse collectors strike, trash bins have become a symbol of the protest.
Mr. Macron's office announced that a state visit by the British King was postponed. He had been scheduled to arrive in France on Sunday on his first state visit as monarch, before heading to Germany on Wednesday. The German part of the trip was still going ahead.
Polls say most French oppose Mr. Macron's bill to increase the retirement age from 62 to 64, which he says is necessary to keep the system afloat.

ALSO READ | Explained | Why is France seeing widespread protests over Emmanuel Macron's pension reforms?
The supply of fuel to Paris by the large Gonfreville-L'Orcher refinery in Normandy resumed on Friday after police intervened, according to Energy Transition Minister Agnès Pannier-Runacher. At the Fos-sur-mer oil terminal near Marseille, however, protesters were meeting to plan future oil refinery blockades.
Fearing disruptions in the coming days as actions continue, France's Civil Aviation Authority has requested that a third of flights be cancelled on Sunday at Paris' second airport, Orly, with 20% to be canceled Monday.
Unions have called for new protests and strikes on Tuesday, the day King Charles III had been scheduled to visit Bordeaux. The heavy wooden door of the elegant Bordeaux City Hall was destroyed by fire Thursday night by people taking part in an unauthorised demonstration.
The mayor of Bordeaux, Pierre Hurmic, said Friday he had "difficulty understanding the interest of such acts of vandalism".
The protests have drawn support from beyond France's borders. In Greece, hundreds of protesters gathered outside the French Embassy in Athens on Thursday to show solidarity.
Protesters chanted slogans and held placards that read "Macron, your democracy hangs on nine votes" and "From Greece: victory for the workers of France".