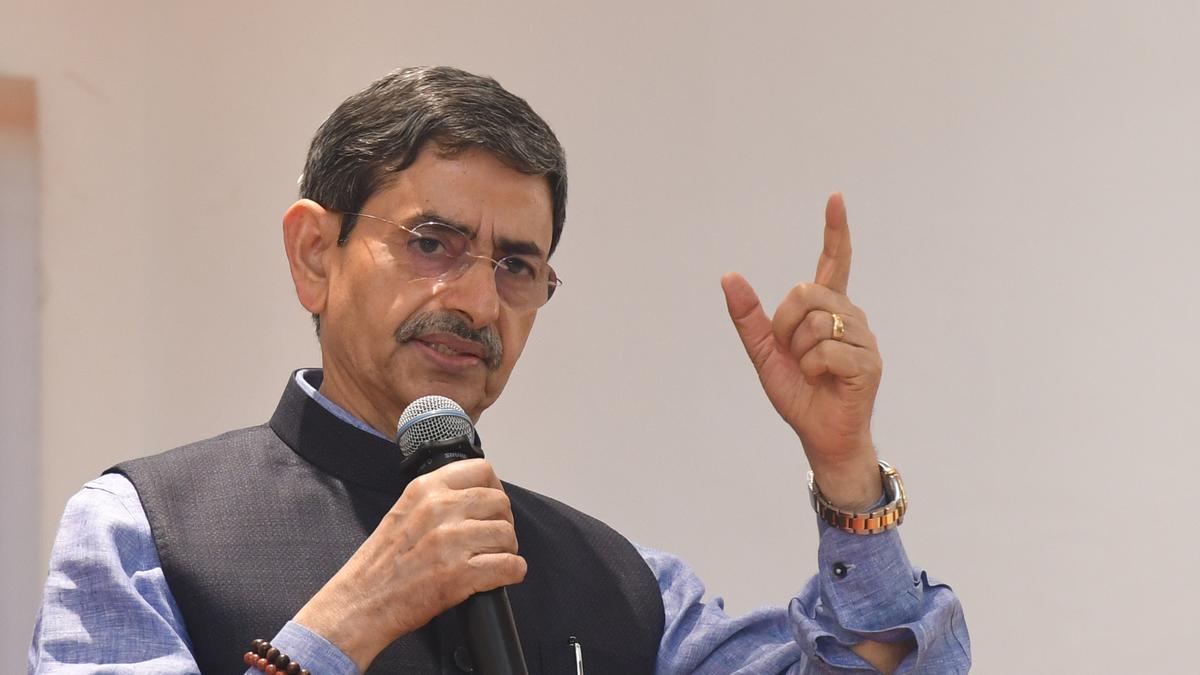 NASA hands over NISAR satellite to ISRO 
The Indian Space Research Organisation (ISRO) has received the NASA-ISRO SAR (NISAR) satellite from the U.S. space agency. NISAR is a Low Earth Orbit observatory jointly developed by NASA and ISRO. According to ISRO, NISAR will map the entire globe in 12 days and provide spatially and temporally consistent data for understanding changes in Earth's ecosystems, ice mass, vegetation biomass, sea level rise, groundwater and natural hazards, including earthquakes, tsunamis, volcanoes and landslides.
Australian Prime Minister welcomed in Ahmedabad with Holi colours
Australian Prime Minister Anthony Albanese began his four-day visit to India by playing Holi in Ahmedabad on Wednesday. The Australian leader's visit comes months after the interim trade pact — Economic Cooperation and Trade Agreement (ECTA) — came into force as the two sides also drew closer under the strategic Quad initiative. 
Tamil Nadu Governor returns Bill on prohibition of online gambling, regulation of online games
Governor R.N. Ravi on March 8 returned to the State government the Tamil Nadu Prohibition of Online Gambling and Regulation of Online Games Bill, passed by the Assembly on October 19. A senior official said the reason cited for the return was that the State legislature had "no legislative competence" to frame the bill. 
Delhi excise policy case | BRS leader K. Kavitha to appear before ED on March 11
Telangana Chief Minister K. Chandrashekar Rao's politician daughter K Kavitha on Wednesday said she will appear before the Enforcement Directorate on March 11 in connection with a money-laundering case linked to alleged irregularities in the Delhi excise policy.
Money laundering laws will now cover cryptocurrency trade
The government has imposed money laundering provisions on cryptocurrencies or virtual assets as it looks to tighten oversight of digital assets. In a gazette notification, the Finance Ministry said the anti-money laundering legislation has been applied to crypto trading, safekeeping and related financial services.
One killed as police use water cannon, tear gas on Imran Khan's supporters in Lahore
Pakistani police used water cannons and fired tear gas to disperse supporters of the country's former Prime Minister Imran Khan on March 8, 2023, in the eastern city of Lahore. One activist of the Pakistan Tehreek-e-Insaf (PTI) party was killed. Two dozen Khan supporters were arrested for defying a government ban on holding rallies, police said.
Xi Jinping says China needs to improve use of defence resources 'to win wars'
China needs to improve its use of defence resources such as technology, supply chain and national reserves "to strengthen its army and win wars", President Xi Jinping said on March 8. Mr. Xi is commander-in-chief of China's armed forces and is due to be formally re-elected as President later this week.
U.N. rights chief says 'deeply concerned' over U.K. asylum plan
The UN rights chief criticised Wednesday a British draft law that would outlaw asylum claims by anyone arriving in the country illegally, warning it would violate international law. "I am deeply concerned at this legislation," Volker Turk said in a statement.
Champions League | Bayern cruise past PSG to reach last eight
Bayern Munich forward Eric-Maxim Choupo-Moting scored against his former club and Serge Gnabry added a late second as the Germans beat Paris St Germain 2-0 on Wednesday to reach the Champions League quarter-finals.
WPL | After Dunkley and Harleen power the Giants past 200, the bowlers deliver a maiden win
On a warm Wednesday night at the Brabourne Stadium, the Gujarat Giants, riding on sparkling 60s from Sophia Dunkley and Harleen Deol, finally tasted victory in the Women's Premier League. Chasing 202, RCB could only manage 190 for six.