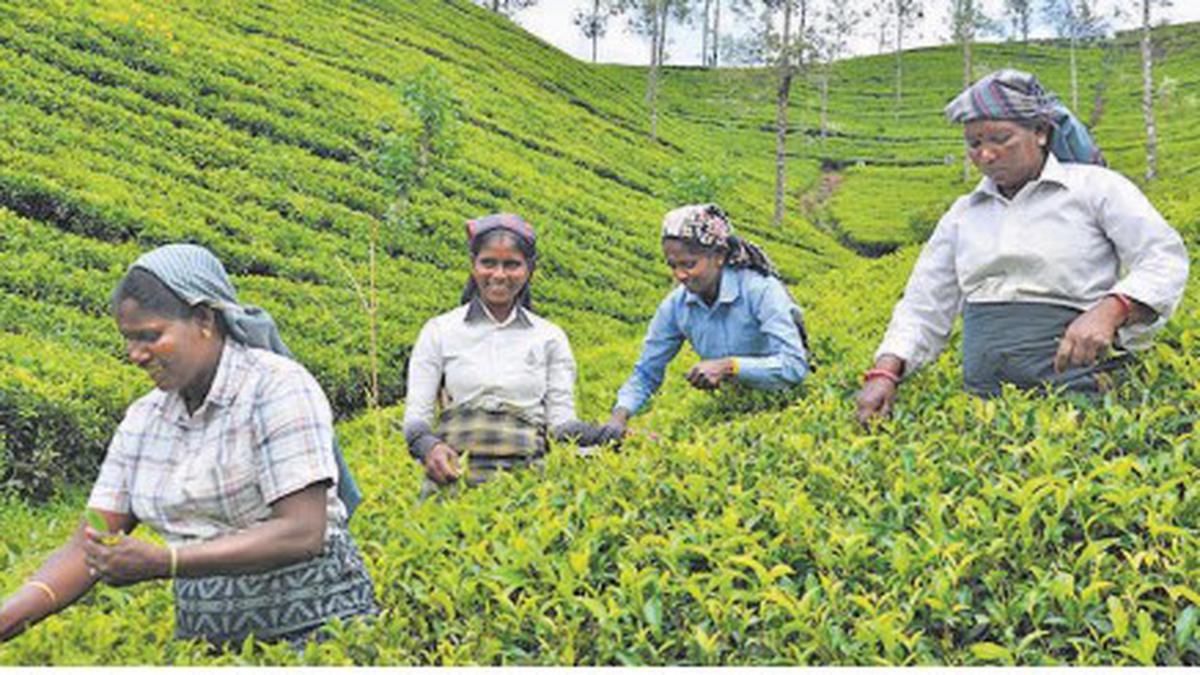 Of the many tumultuous chapters in Sri Lanka's history, the one on Malaiyaha (hill country) Tamils is often glossed over. As members of the community commemorate this year the 200th anniversary of their South Indian ancestors' arrival in Ceylon, it is yet again evident how their present realities are constantly weighed down by past injustices.
Brought down by British planters, to work at coffee and tea plantations, the Malaiyaha Tamils have played a crucial role not only in Sri Lanka's export economy, but also in building the island's road and railway infrastructure. The community identifies as a distinct ethnic group, separate from the Tamils of Sri Lanka's north and east, who have a much longer history in the island nation. Its members speak a dialect of Tamil that is different from that spoken in the north or east, and closer in intonation and vocabulary to how it is spoken in Tamil Nadu.
Even today, some 1.5 lakh people, mostly women, from among the Malaiyaha Tamils said to total over a million — these official figures from the decade-old state census are heavily contested — work on the tea and rubber estates across Sri Lanka's Central Province, Sabaragamuwa Province and Uva Province. About double the number are in the labour force in other sectors, while some work as professionals, or in commerce and trade. They constitute the fourth largest ethnic group on the island, after the Sinhalese, 'Sri Lankan Tamils', and Muslims (considered as both ethnic and religious community).
During the debilitating economic crisis last year, the hard labour of the Malaiyaha Tamils employed on the tea estates fetched over $1 billion for the foreign exchange-starved country. But their work remains underpaid, exhausting, and dangerous, fraught with leeches and wasp attacks. In a determined campaign, estate workers relentlessly agitated for three years for a pay increase. With their earnings tied to an ambitious productivity target, even their hard-fought and won daily wage of LKR 1,000 (roughly ₹273) is out of reach for most, while the community is among the poorest in Sri Lanka.
Housing and land rights remain elusive, as scores of families continue to live in colonial-era line homes, which are stiflingly crammed rooms of barely 10×12 feet, without basic facilities of sanitation, water and sometimes electricity. Following a visit to the region in 2021, the UN Special Rapporteur on contemporary forms of slavery Tomoya Obokata said he was "appalled to see the inhumane and degrading living conditions" in the line rooms persisting to the present day.
Fight for survival
Brutal exploitation and discrimination have been running themes in this community's history spanning two centuries. The Citizenship Act of 1948, passed months after Sri Lanka's Independence, effectively rendered members of the community stateless and their fight for citizenship continued until as late as 2003. Following the 1964 Pact, signed by Prime Ministers Sirimavo Bandaranaike and Lal Bahadur Shastri, at least half a million Indian origin Tamils were repatriated to India, where land and livelihoods were hard to secure. Those who remained have had to struggle, both for survival, and for acceptance in Sri Lanka.
The Malaiyaha Tamils in Sri Lanka faced communal violence in the anti-Tamil riots of 1958, 1977, 1981 and 1983. These targeted attacks forced several thousands from the community to move to the north and east, where many still reside, at times braving discrimination by Tamils there. During the civil war, the LTTE recruited thousands of hill country-origin youth as combatants.
For many decades, the Ceylon Workers' Congress has been the dominant force in the trade union movement in the plantations, as well as the political landscape, often aligning with the ruling party from the Sinhalese-majority south. More recently, a stable alternative has emerged, to challenge the CWC. In particular, the Tamil Progressive Alliance, now in opposition, has sought to amplify concerns of Malaihaya Tamils, including those outside the estates, in debates on development and constitutional reform. The Tamil political parties of the north and east rarely take up the issues of Hill Country Tamils. Despite their historical connection with India, the Malaiyaha Tamils have, over time, distanced themselves from the "Indian-origin" tag, seeing it as an obstacle to their accessing their political rights and social entitlements as lawful citizens of Sri Lanka. Yet, their struggle, for equal treatment as citizens of Sri Lanka, continues.