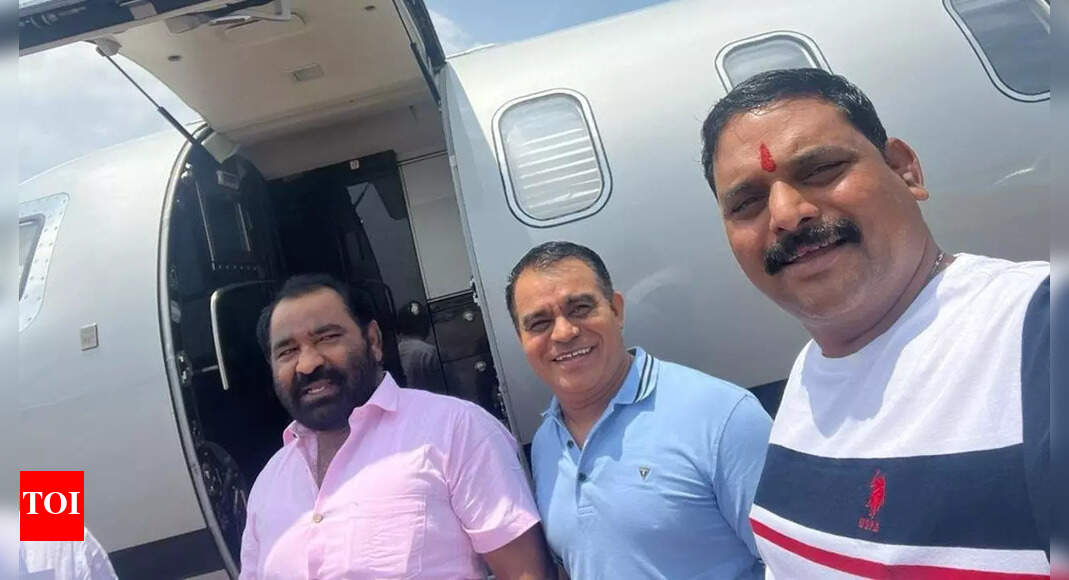 NEW DELHI: A day after
Shiv Sena
MLA Nitin Deshmukh alleged that he was forcibly taken to Surat in Gujarat from Mumbai, rebel Shiv Sena leader Eknath Shinde's camp on Thursday released some of his pictures to refute the claims.
In the pictures released on Thursday, he is seen at ease and smiling with other MLAs while boarding a plane as well as inside the aircraft.
After landing at Nagpur airport on Wednesday afternoon, the Shiv Sena MLA from Balapur in Akola district had alleged that a bid was made on his life in Surat, where he was "forcibly" kept at a hotel with other rebel legislators led by Shinde.
Sticking to his claims, Deshmukh on Thursday said before him, MLA Prakash Abitkar tried to get away from the camp but could not. "We got to know about the conspiracy against the MVA government of Maharashtra as soon as we reached Surat's hotel," said Deshmukh.
Another Shiv Sena MLA, Kailash Patil, claimed on the day they "were trapped and taken to Surat". "I walked a kilometre to run away from there. We will not ditch the Shiv Sena, which has made us MLAs."
Deshmukh, who parted with the group during its second halt at Guwahati in Assam, had said on Wednesday that he stands firmly behind chief minister Uddhav Thackeray in the current political crisis.
"I had gone with Shinde (to Surat) because he was our minister, our leader," said Deshmukh, conveying to media persons that he had no inkling of what was about to transpire.
He had claimed he tried to return to Mumbai from Surat on the intervening night of Monday and Tuesday. "I tried to leave the hotel around 3 am, but nearly 200 policemen prevented me from doing so. They forcibly took me to a hospital saying I had suffered a heart attack, even though it was not true. There they gave me some injections. They tried to kill me, but due to God's grace I am safe," Deshmukh had said.
Later, the entire entourage of rebel MLAs, including Deshmukh, was moved to Guwahati from Surat. As per sources, Deshmukh had refused to leave Guwahati's Lokapriya Gopinath Bordoloi international airport premises even as other MLAs went ahead to a hotel. After staying put for a few hours, he had flown down to Nagpur on Wednesday afternoon, and had left for Akola by road.
On the day, Eknath Shinde had refuted the charges while speaking to a news channel over phone, only to release Deshmukh's photographs to support his claim. "If we had taken him forcibly, then would I have sent him back with two men," he asked.
On Tuesday, Deshmukh's wife Pranjali had even filed a missing complaint with Akola police and told media persons there that she would go to Surat to trace her husband.
On Thursday, 42 rebel MLAs from Maharashtra – 35 from Shiv Sena and seven Independents – were seen together in a video shot at Radisson Blu Hotel in Guwahati.
One of the rebel MLAs, Sanjay Shirsat, even released an open letter that their concerns fell on deaf ears as party 'seniors' would not take their calls as they waited to see the CM.
The Aurangabad (west) MLS said during this "tough time" they had access to Eknath Shinde.
But Shiv Sena leader Sanjay Raut, during a press briefing, asked the MLAs not to communicate from Guwahati, saying they should come back to Mumbai and discuss all this with the CM. "We are ready to consider exiting the MVA government if this is the will of all the MLAs, but for that, they have to come here (Mumbai) and discuss it with the CM."