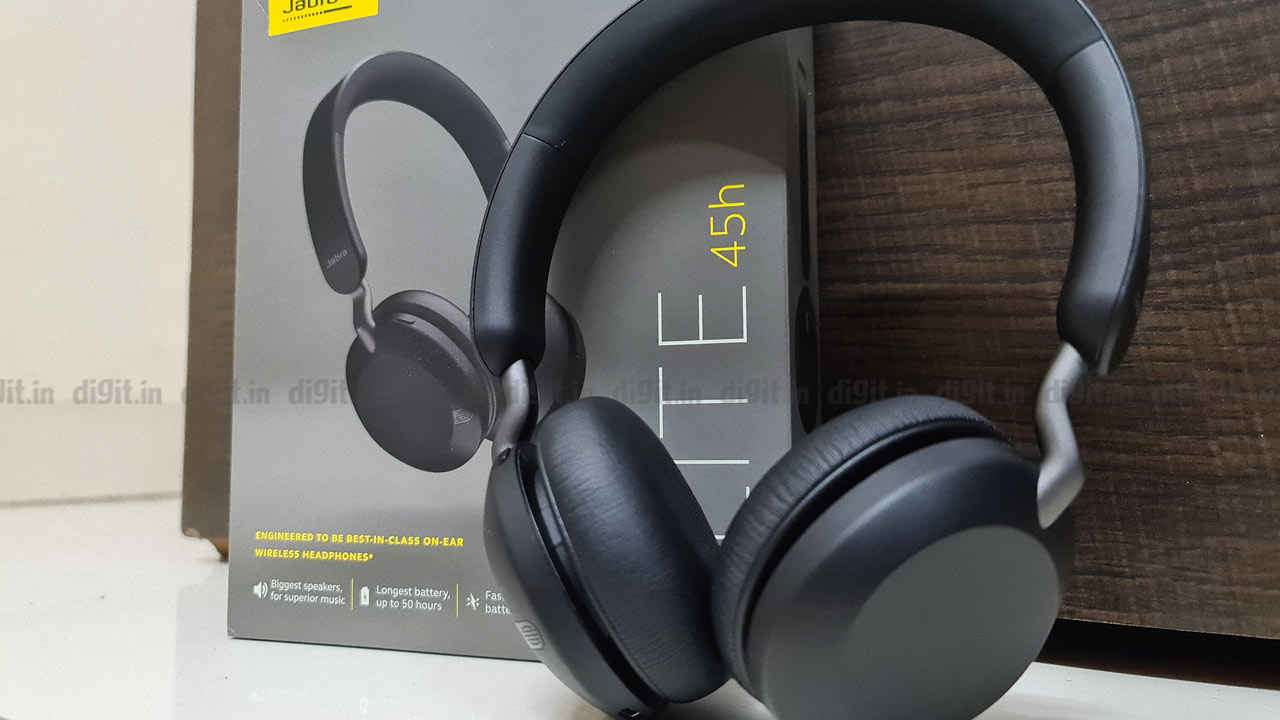 Danish company, Jabra, has steadily secured a highly-respectable position in the consumer audio industry with stunning offerings, especially in the truly wireless space, such as the Jabra Elite Active 75t. The company, however, isn't just a one-trick pony and has consistently delivered quality products in different form factors, at different price points. The on-ear or supra-aural headphones category hasn't experienced a whole lot of love in the past few years, however, Jabra recently launched the Elite 45H, a pair of supra-aural cans that revitalise the category. Priced at Rs 9,999, the cans don't boast an array of features but they do have a marvelously-long battery life, solid and robust build, and app support as well. The question remains, how do these relatively affordable cans perform in real-life? Read on to find out.
Build and comfort
Weighing a mere 160g, the Jabra Elite 45H are not just lightweight but also comfortable on-ear headphones with a minimalist and classy look. There's not much going on in terms of accents and highlights, however, the polished matte texture and the shiny metal headband extenders, which are concealed in the headband itself, give the cans an air of elegance. Although the headphones are primarily made out of plastic, they don't look cheap in the slightest and there's no exasperating creaks or groans emanating from the frame.
The headband is sufficiently comfortable, but ditches the traditional foam padding in favour of a rubberised material that still features adequate amounts of padding. The ear cups, on the other hand, employ the more traditional memory foam and PU leatherette covering combo, which is, no doubt, supremely comfortable. The leatherette material features tiny perforations on the interior that not only look striking but also cleverly denote the left and right ear cups. The ear cups swivel slightly over 90-degrees and can lay flat on your chest when not in use.
Overall, the lightweight plastic and metal build and the choice of materials for the headband and ear cups lend to a supremely comfortable experience for hours on end. You may, however, have to fidget with the headphones for a bit to get them to sit flush on your ears, but once they're on the cans are extremely comfortable and even pretty breathable. Jabra has also included a soft carrying case for the cans, which are relatively portable due to their small form factor. Unfortunately though, the headphones do not fold inwards, which is slightly disappointing since it would have made the cans even more portable.
We also face some issues with the clamping force. Even on the tightest setting, the earcups were unable to exert adequate clamping pressure which inadvertently led to slightly poor fit. When you're sitting upright, without tilting your head forwards or backwards too much, the headphones feel like they fit perfectly fine, however, if you so much as angle your head 30-degrees forward or backward, the headphones fall prey to gravity and slip off immediately, which is pretty disappointing and aggravating, especially when you're lying down on your bed, when the headphones on.
Coming to controls and ports, everything is placed on the right ear cup. There's a slider button which can be used to power off, power on, and turn on Bluetooth pairing. Right next to it, you will find the USB-C charging port, for the rare occasions when you'll need to charge these cans. On the top of the cup, there's a three-button array which allows for controls such as pause/play, accept/decline calls, volume up/down, and skip tracks forwards/backwards. There's also a solo button which is used to summon your device's voice assistant.
Overall, the buttons are fairly easy to find (once you get used to the positions), and have a satisfying tactility to them. There's slight nuances which Jabra has included, which we love, such as the music slowly fading in or out when you pause/play the music, and the pleasant button clicking sounds that not just sound good, but also indicate if you've pressed the button the right number of times for the command you want to implement.
Features
Unlike premium cans, these relatively affordable on-ear headphones provide users with a select few features that enhance the usability of the device. So, you won't get access to bells and whistles such as ANC, Ambient Sound, auto-pause/play and touch controls, which is expected at this price point. These cans also omit some features that would be nice to have at this price point such as an IP rating and high-quality codec support (AAC, aptX, aptX HD, aptX LL), which is slightly disappointing.
However, you do get access to the Jabra Sound+ app and voice assistant support (Alexa, Google Assistant, or Siri) with these cans. The Jabra Sound+ app comes with nifty functions such as a five-band customisable EQ, music presets, and even customisable presets which can be named. You can also play around with headset settings and configure the intensity of sidetone (ability to hear your own voice) in calls, and Sleep Mode. There's even a MySound feature that tailors the equaliser to your hearing, which is useful for those with hearing impairments.
Additionally, you get USB-C charging, multi-pairing with up to 8 devices, multi-connect functionality which lets you connect to 2 devices at the same time, and Bluetooth 5.0 connectivity which allows you approximately 33 feet of uninhibited wireless transmission range. The headset also has a massive battery life of 50 hours and Fast Charging abilities, where 15 minutes of charging nets you a whopping 10 hours of juice. In our tests that lasted over a week, we were unable to drain the battery completely even with moderate use at about 50 percent volume, which is seriously impressive.
Performance
Sporting a lively and energetic sonic signature, the Jabra Elite 45H are possibly one of the best sounding mid-range supra-aural headphones on the market right now. There's ample vigour and drive across the board and most genres sound fantastic on the headphones. The mids seem to be the most prominent frequency, however, that doesn't take away from the almost equally lively lows and highs. Bass-lovers will also be satiated with the punch in the bass response, however, do not expect these to be as boomy as Beats or Skullcandy headphones. It's all about energy and relative balance with the Jabra Elite 45H.
For most tracks, the bass response is punchy and pretty detailed even. Tracks such as Billie Eilish's bad guy, where the vocals are often overrun by booming bass in most headphones, especially budget and mid-range ones, the bass response is adequately punchy but it doesn't distort that high volumes and there is minimal auditory masking in the mids. In Mindstreet by Motherjane, the bass guitar flourishes but doesn't take away from the clarity and prominence of the vocals and other instruments.
The cans are also excellent at handling vocal-centric tracks such as Hello by Adele. The mids and high-mids soar elegantly in most scenarios with little to no sibilance, even in female voices. Lead instruments cut through the track beautifully, and tracks such as Pull Me Under by Dream Theatre sound divine with clear vocals and lead guitar.
The highs, while pretty detailed, can get a bit chaotic and aggressive due to the lively sonic signature which pushes the high-frequency instruments such as cymbals aggressively in some tracks. Selkies by Between the Buried and Me sounded outright chaotic even at 50 percent volume, and we were forced to reduce the volume considerably and sacrifice some clarity. Nevertheless, most genres do not encounter this issue, it is only heavy metal and rock songs with crowded high-frequency instruments that suffer from this issue.
The soundstage is fairly limited on these headphones and you're not going to be as enveloped in an auditory bubble as you would be with over-ears. Imaging, on the other hand, is pretty good and most instruments and vocals are placed accurately in the limited stage.
Now, coming to the microphone, Jabra employs an excellent two-mic array inside the right earcup which does a great job at calls and even recording voice notes. In calls, the receiver could hear our voice distinctly without it sounding muffled and distant. The microphone intelligibility is also good, with the notes app picking up most of what we said accurately.
Bottomline
At Rs 9,999 (and Rs 8,999 on Amazon as of writing this review), the Jabra Elite 45H are one of the easiest on-ear headphones to recommend in this price range. Not only do you get a stellar battery life of about 50 hours, but you also get solid sound quality, good microphone performance, a comfortable design, and access to the nifty Jabra Sound+ app with a five-band EQ and music presets. At under 10K, the Jabra Elite 45H gives you very little to complain about and they're a solid pair of headphones in almost all aspects. If you do want ANC, however, you can consider the Sennheiser HD 450BT which costs about 5K more.