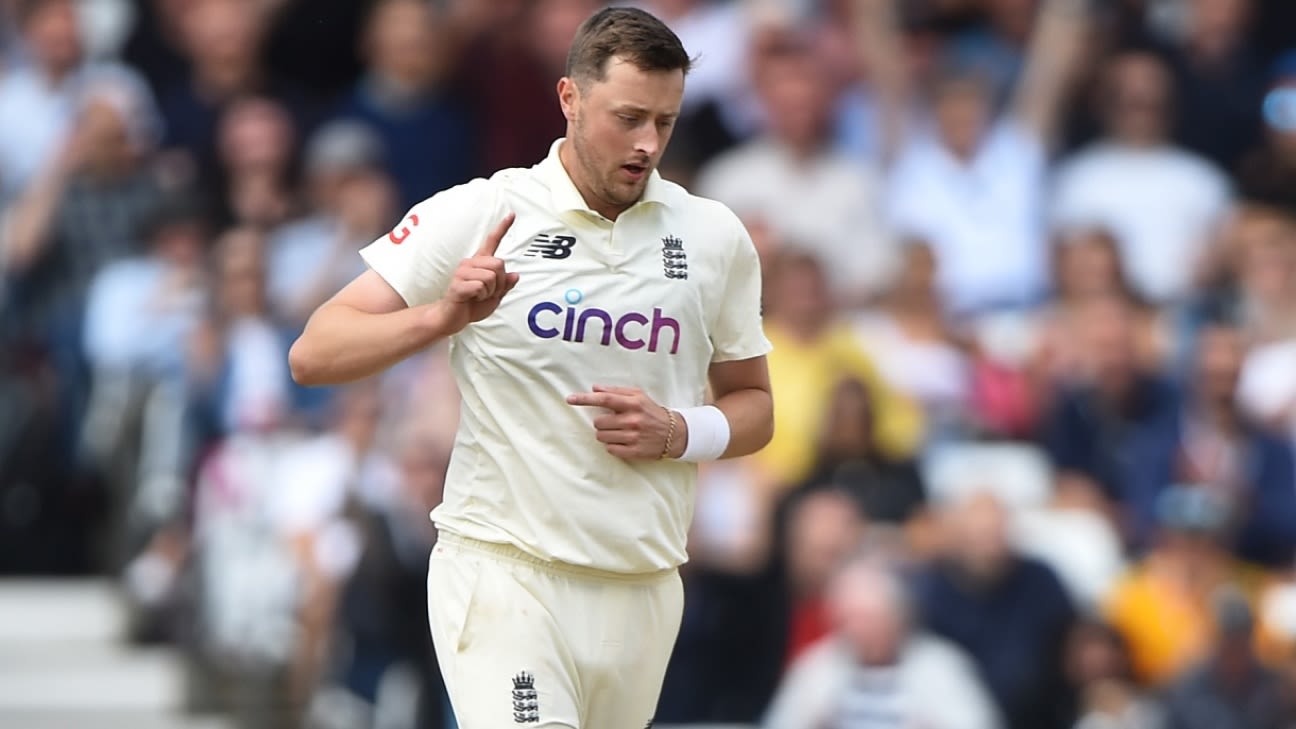 News
Seamer making headlines for the right reasons with maiden Test five-wicket haul
Whatever happens over the next couple of days of this intriguing Test, England can take heart in the emergence of a cricketer who should serve them well for the next four or five years.
But for England's poor fielding – and we'll come back to this – Ollie Robinson really should have taken a five-wicket haul on his Test debut at Lord's. On that occasion, though, Stuart Broad put down Tim Southee at mid-off and Robinson was denied. So it was probably fitting that Broad, running around the fine-leg boundary and pulling off a diving catch, should take a substantially more difficult chance to complete the milestone here. There's no reason at all it shouldn't be the first of many.
In between times, though, Robinson has seen his career flash in front of his eyes. Even as he was impressing on that debut performance at Lord's, the existence of vile social media posts made by him several years ago was coming to light. No sooner was the game finished, then Robinson was suspended pending a disciplinary hearing. He admits now that, in those days, he feared his England career may be over.
"I definitely had doubts over my career," Robinson said. "There was a time I was speaking with my lawyers and we were looking at the fact I could be banned for a couple of years. That would have taken me up to the age of 30 and someone else could have come in and taken my spot. So yes I had doubts over my career. I thought I might never play for England again.
"It was tough. Probably the toughest few weeks I've had in cricket to be honest, or in my life, actually. It affected not only myself but my family. But luckily it all came good today."
In truth, there wasn't much luck involved. Robinson has looked every inch a Test-quality bowler in both his performances to date and richly deserved this maiden five-wicket haul. While he is not especially quick – his stock ball tends to be somewhere around 130 kph (just over 80 mph) – his bouncer is notably sharper (up around 137 kph) and ensures batters aren't able to simply get on the front foot. He's tall, too – around six feet five (that's 198 cms) – so gains bounce which threatens the shoulder of the bat even while he bowls a probing, full length.
It's no surprise at all to hear that his cricketing role-model, initially at least, was Glenn McGrath. It would be stretching a point to say that Robinson is that good. But with an apparently easy action, an impressive control of line and length and the ability to hit the seam and move the ball both ways, the comparison is not ridiculous, either. Later he played Grade cricket in Australia with Josh Hazlewood. These are the best in the business and he has clearly learned his lessons well.
It was noticeable that he was often preferred to Broad at key moments in this innings. At the start of the third day, for example, it was Robinson and James Anderson who Joe Root asked to bowl. Later Robinson also took the second new ball. He bowled more overs than anyone in the innings not just because he is younger but because he looked more likely to strike. He also conceded fewer runs per over (3.16) than either Broad (3.50) or Sam Curran (3.80). It would be premature to suggest he is ready to usurp Broad – given England's schedule, there is plenty of room for several reliable seamers – but he did suggest there is, in that area at least, some depth. That can only be a good thing.
None of this makes the social media comments OK, of course. But they were a long time ago – he was 18 at the time the most unpleasant of them were posted – and he has now been punished (he was fined £3,200 and suspended for eight games; five of them suspended) and rehabilitated with various courses and a commitment to work with the PCA (the Professional Cricketers' Association; the players' union) to ensure he shares his experiences. He doesn't try to excuse what he did – there's no mileage in that – but it is clear he is a very different man now.
"I was a young, naive guy," he says. "I made a lot of mistakes. Not just those tweets. I had negative press when I got sacked from Yorkshire as well.
"But I've learned a lot. I have grown as a person in that time. I've tried to develop myself as a person in the last ten years. I am father now, as well, and I have just tried to make myself the best person I can be. I hope people will be able to see that."
Ultimately, Robinson will be judged by what happens from now onwards. But it was interesting to note that, even at a time when he might have felt under great scrutiny, he maintained the aggressive manner that has characterised his cricket at county level. So, there were plenty of grumpy stares in the direction of the batters and even something of a send-off once he dismissed Ravi Jadeja. This won't be to everyone's taste, of course. But, on hot days in Perth or Chennai, you suspect his captains might appreciate this competitive edge.
"It was friendly banter," he says. "I was trying to get them out of their bubble and play a few shots. They were batting well. But they were pretty defensive and I wanted KL Rahul to play some shots. It was all good fun out there.
"But it was important for me to show everyone that I am the real deal on the field and try to get the scrutiny off me. It was a proud moment for myself and my family; a moment I'll cherish for a long time."
And so he should. Robinson has made a lot of headlines in his short international career. Here, at least, they were for entirely the right reasons. You suspect there are many more positive stories to come.
George Dobell is a senior correspondent at ESPNcricinfo