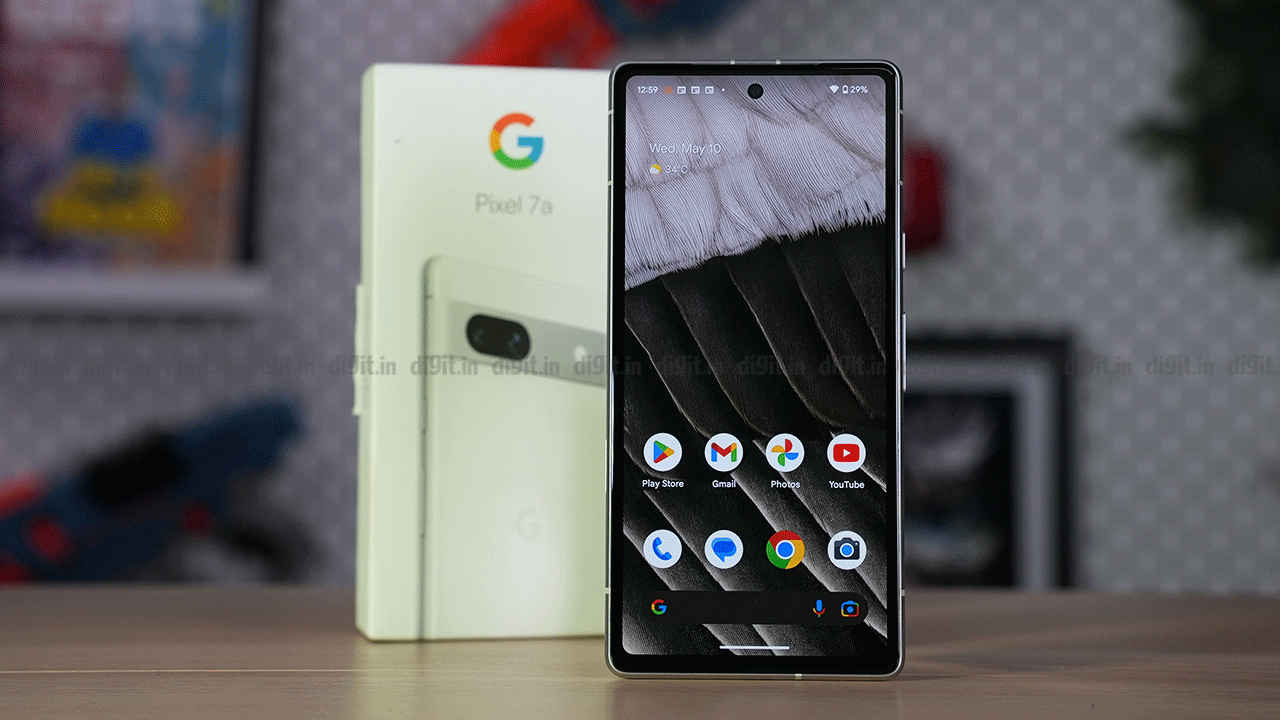 The Pixel 'a' series has always been sought-after amongst Stock Android fans that want to enjoy Pixel's clean user interface without breaking the bank. Google has now introduced the brand-new Pixel 7a at ₹43,999 in India. While this is definitely a more palatable price, for the Indian audience, than the ₹70,000 price tag carried by the Google Pixel 7 Pro (review), the Pixel 7 5G (review) is now available at just ₹46,000 on Amazon. So, the Pixel 7a and Pixel 7 are faced with a paradox since they're both so close in price in 2023. The question many will be plagued with is which one makes for a better deal? 
The Google Pixel 7a addresses many issues users voiced with the Pixel 6a (review). Wireless charging, 90 Hz refresh rate, and an up-to-date Sony IMX787 64 MP primary camera have all been added. That said, the smartphone market in India under ₹50K is outrageously competitive. Similarly-priced options include the Nokia X30 (review), OPPO Reno8 Pro (review), iPhone SE (2022) (review), and Google's very own Pixel 7. So, is this the best smartphone you can purchase for under ₹50,000? Does it beat its competition when it comes to camera quality? Let's find out.
Google Pixel 7a Review: Build and design
Google has slightly revamped the design of the Pixel 7a – however, the overall aesthetic is very similar to last year's Pixel 6a. The phone is available in three colourways – Charcoal, Sea, and Snow. I got the White-coloured Snow variant for review and boy, is it a stunner. Google has replaced the material of the visor-like camera bar from glass to metal (aluminium) this time around and it amplifies the Pixel 7a's premium look.
The back panel is minimalist and looks deceptively like glass, but it is actually 3D thermoformed plastic. The back, being glossy, does attract fingerprints, but you can't really see them on the White surface of the Snow variant. The visor-like camera module juts out slightly, but since it runs from corner to corner, there's not a lot of wobble when the phone is laid flat on a table. Google has utilised 100 per cent recycled material for the aluminium frame and visor, sprinkled with recycled glass and plastic as well, so major props to the company there.
The sides of the phone have a slight curve which makes it comfortable to hold but the display is flat, which minimises accidental touches. There are multiple antennae bands running around the frame of the phone, and they actually add a nice aesthetic touch to the device. On the right, you've got the power button and volume rockers, and the bottom houses the speakers and charging port. The left side has a SIM tray that houses one nano SIM but you've got the option to add a second eSIM.
The buttons are the phone are extremely well-built. They feel robust and tactile. There's an in-display optical fingerprint sensor that is quite accurate but a bit slower to respond than what I've seen on competitors. The Pixel 7a is also IP67 rated so it is protected against elements such as dust and water (up to 1 meter for 30 minutes). There's no 3.5 mm jack or microSD card slot though. The speakers are sufficiently loud and have a good low end with minimal distortion.
Google Pixel 7a Review: Display
Moving on to the display, the Google Pixel 7a is a very compact phone with a screen size of merely 6.1-inches. At this price, it competes with the iPhone SE (2022) in the compact smartphone segment. If you're someone who prefers compact phones, this is really the ideal compact phone size in 2023. The screen has pretty thick bezels, and the chin bezel is considerably thicker than the rest but there's a small punch-hole cut out for the selfie camera. The display is protected by Corning Gorilla Glass 3 – the same as its predecessor. It is disappointing that Google hasn't updated this yet.
The phone sports an OLED panel with Full HD+ resolution and HDR support. You also get 24-bit colour and >1,000,000:1 contrast ratio, so it is a pretty kitted-out panel. One of my major gripes with the Pixel 6a was the lack of high refresh rate support. This time around, Google has listened to feedback and included support for 90 Hz refresh rate. 
While this isn't as snappy as 120 Hz or even 144 Hz on some competing phones – it does wonders when it comes to how fluid scrolling feels. The 90 Hz refresh rate needs to be turned on in Settings > Display > Smooth Display. The phone has Adaptive refresh rate by default and it automatically switches between 60 and 90 Hz depending on what you're doing to conserve battery. However, there are only two stops, so it can't go below 60 Hz when needed.
That aside, the panel is great for content consumption. You get deep blacks, close-to-natural colours, and great viewing angles. I tested the brightness of the device with our lux meter and got a reading of 1273 nits under direct sunlight (Adaptive Brightness on) – which is excellent. Adaptive Brightness will also learn your brightness preferences as you use it, so every time you manually adjust the brightness slider, it adapts to your preferences and will act accordingly in the future. This is a great display at this price, however, we do wish the bezels were slightly thinner for an even more immersive experience.
Google Pixel 7a Review: Cameras
Google has finally upgraded the primary camera of its new 'a' series phone! The Pixel 7a houses a new 64 MP Sony IMX787 sensor which is known to be a flagship-grade smartphone camera sensor with good dynamic range and low-light photography capabilities. The Pixel 7a also packs a 13 MP ultrawide camera and a 13 MP selfie sensor. You've also got OIS and EIS support on the device. Add to that Google's computational photography magic and you've got a camera that rarely falters.
The primary camera outputs brilliant photos in most conditions – be it daylight, indoors, or low light. The dynamic range is excellent – you've got good details in the shadows and highlights are never blown out, there's a good balance between the two even in tricky lighting situations. The colours are excellent; very close to real-life thanks to Google's Real Tone feature. We've added some image samples below, but they've been compressed for the web.
This is especially apparent in portrait shots of human beings with the Pixel 7a outputting some of the best natural-looking portraits in this price range. Not only are the colours accurate, but portraits taken from the Pixel 7a also have excellent detail retention and impressive edge detection. There are times when the phone can miss out on a strand or two of hair, but the results you're getting are impressive at this price. The phone allows you to take portrait shots at 1x and 2x, but the 1x shots are more cropped than 1x on Normal Camera mode. However, with Google's new Super Res Zoom feature – you can get pretty detailed zoomed images and portraits despite there being no optical zoom.
Ultrawide images that are taken from the 13-megapixel camera come out looking sharp as well, especially in the centre of the image. The dynamic range isn't as strong as the main camera, owing to the f/2.2 aperture compared to the main camera's f/1.9, so details in the shadows aren't as crisp. The edges of the photo are also a bit soft but this is just me nitpicking. Overall, the ultrawide camera on this phone is better than many on the market at the same price such as the Nokia X30. In fact, the iPhone SE (2022) doesn't even have an ultrawide shooter. There's no macro mode though. 
In low light, the Pixel 7a's camera really impressed us, especially with Google's Night Sight feature turned on. Photos look sharp and detailed with minimal lens flare. In fact, we found the lens flare to be lower than the Samsung Galaxy S23 Ultra (review) as well when we took a shot side-by-side – which is extremely impressive. Noise is very well controlled and human skin tones are very well produced at night as well. 
The 13 MP selfie camera has also improved compared to the 10.8 MP one on the Pixel 6a. Shots are clearer, have better dynamic range, and true-to-life colour. The phone's video recording capabilities max out at 4K at 60 fps on the rear camera and 4K at 30 fps on the selfie shooter. Videos look good in daylight with impressive dynamic range but the quality takes a hit in low light. Overall though, the Pixel 7a has a fantastic camera stack, and in my opinion, this camera setup isn't rivalled by any other at the ₹50K price point.
It's not just the camera stack, but also features such as Photo Unblur, Magic Eraser, Face Unblur, Portrait Light, and others in the Google Photos Editing app that really make a difference in user experience. For instance, even if the camera ends up taking a blurry shot, you always have the option to spruce up the image using the Photo Unblur option. 
Google Pixel 7a Review: Performance
The Google Pixel 7a brings with it the same custom chipset that is also featured in its more expensive siblings – the Pixel 7 and Pixel 7 Pro. You get Google's Tensor G2 chipset – built on a 5 nm process – that is equipped with two Cortex-X1 cores clocked at 2.85 GHz, two Cortex-A78 cores at 2.35 GHz, and four Cortex-A55 efficiency cores at 1.80 GHz. The phone also houses Google's Titan M2 security coprocessor that helps store sensitive data in your device to reduce the chance of a security breach. 
You get a sole memory variant which comes with 8 GB LPDDR5 RAM and 128 GB UFS 3.1 storage. Honestly, 128 GB being your only storage variant is ridiculous in 2023, especially when there's no memory expansion support. This gripe has been constant ever since the Pixel 6a to the Pixel 7 and 7 Pro, and now, the Pixel 7a. Google, please buck up here!
The SoC performs well in its price range, but it doesn't match up to the heavyweights in the industry such as Qualcomm and Apple's flagship chipsets. I kicked things off by running CPU benchmarks where the Pixel 7a does a decent job in its weight class. It beats most competitors at the same price in AnTuTu except the iPhone SE 2022 which comes packing the speedy A15 Bionic processor. 
In GeekBench, the pattern repeats in the Single Core test but in the Multi Core test, both the OPPO Reno8 Pro and iPhone SE (2022) beat the Pixel 7a. The phone pulls up decent scores in PCMark Work but both the OPPO Reno8 Pro and iPhone SE (2022) once again defeat it here. Overall though, the Pixel 7a has made considerable performance gains over its predecessor. The phone also does well in GPU benchmarks. It scored a respectable 1684 points in 3D Mark Wild Life and 3131, 3345 and 5269 in GFXBench's Aztec Ruins, Car Chase, and Manhattan 3.1 tests respectively.
Synthetic benchmarks aside, the phone is smooth for day-to-day usage and powerful enough to run intensive games such as Call of Duty: Mobile at Very High graphics. However, the phone heats up pretty quickly even if it is running relatively basic tasks such as clicking photos. We recorded temperatures going up to 37-40 degrees Celsius after a run of the CPU Throttling Test for 15 minutes. 
Speaking of throttling, the heat causes the phone to throttle considerably – we recorded the phone throttling to 60 per cent of its peak performance after just 15 minutes of the CPU Throttling Test. I felt the effects of throttling even in my daily usage. When the phone heats up, there were multiple instances of stutter and lag – be it a drop in frame rate in COD: Mobile or stutters in the Photo Editing app.
I faced similar issues with the Pixel 7 as well when I was testing it, but the issues seem to settle down after a few OTA software updates, so I'm hoping the same happens here as well. The sudden instances of lag and throttling can really rob users of a premium experience, so this needs to be fixed. Overall, this phone is a good performer at this price point but is left behind the competition in terms of heat management.
Google Pixel 7a Review: Software
A review of a Google Pixel device is incomplete without mentioning the Stock Android Pixel experience. Bloatware-free, clean, minimalistic – these are the hallmarks of Pixel Experience and the Pixel 7a will give every Android purist a UI experience they will enjoy. While many brands such as OPPO, Xiaomi, Realme, OnePlus, and others come packed with bloatware and third-party apps, the Pixel 7a is devoid of any such contaminants. 
What you get is a clean Android 13 experience out of the box with the promise of security updates for at least 5 years. The phone also gets 3 years of software OS updates – the same as its predecessor. This is disappointing since several Samsung phones are now coming with 4 years of guaranteed OS updates. Also, during my testing, the Pixel 7a ran Android 13 but had the March security patch, meaning it is behind by two months here. We're hoping retail units ship with the latest security patch.
All that aside, the Pixel 7a provides unique UI experiences such as Themed Icons, Live Transcription, Quick Phrases for Google Assistant, At a Glance (shows timely important information such as boarding pass, flight time, weather alerts), Voice Message Transcription, Assistant Voice Typing, and much more. All of this makes using a Pixel device a true joy, and the Pixel 7a is no different. 
Google Pixel 7a Review: Battery life
The Google Pixel 7a houses a 4,385 mAh battery –  a small step down from the Pixel 6a's battery capacity of 4,410 mAh. I noticed that the Tensor G2, while more powerful, has about the same power efficiency as the original Tensor chipset. So, naturally, I saw a slight decline in overall battery life compared to the Pixel 6a. The battery life is still good and I recorded 13 hours and 52 minutes of battery in our 4K video loop test. 
As for normal usage, I easily got close to 5 hours of on-screen time with heavy usage. My day consisted of heavy benchmarking, gaming, video recording, clicking photos, social media, and more. So, for most users, this phone will easily get them to the end of the day without having to top up the battery. But if you're a heavy user, you may have to charge the phone by evening. The battery life also gets better with time, as the phone learns your usage patterns. It learns your favourite apps, so it allocates less power to the ones you rarely use, thereby improving battery performance. 
The Google Pixel 7a also adds something that was sorely lacking in the Pixel 6a – wireless charging support. You can now charge the phone wirelessly on any compatible Qi charger, however, the wireless charging speeds are extremely slow. Speaking of slow charging, the phone is only capable of 18 W charging which is awfully dated in 2023. The Pixel 7a took a whopping 1 hour and 35 minutes to charge from zero to full.
Google Pixel 7a Review: Verdict
The Google Pixel 7a embraces the strengths of previous Pixel phones and builds on them. It is, without a doubt, the best camera phone I've tested under ₹50,000. The upgraded 64 MP Sony IMX787 lens outputs superb results not only in daylight but also in indoor settings and low light. The software is as fluid and seamless as ever, however, only three years of OS updates bugs me since some competitors offer more. While not the most powerful phone at this price, the Pixel 7a performs well in most day-to-day tasks using its Tensor G2 chipset. However, heat management is not up to standard since the phone runs considerably warm at all times and it also throttles performance due to this. At ₹43,999, this is a solid camera phone – bested only by more expensive flagships in the market – however, the heating issues could be a cause for concern. Hopefully, Google manages to fix these issues with OTA updates in the future, and if they do, we'll make sure to update this review. If the Pixel 7a doesn't appeal to you but you still want a clean UI and good cameras, other options include the iPhone SE (2022) with speedier performance and Google's own Pixel 7 which is retailing at just ₹46,000 on Amazon now.