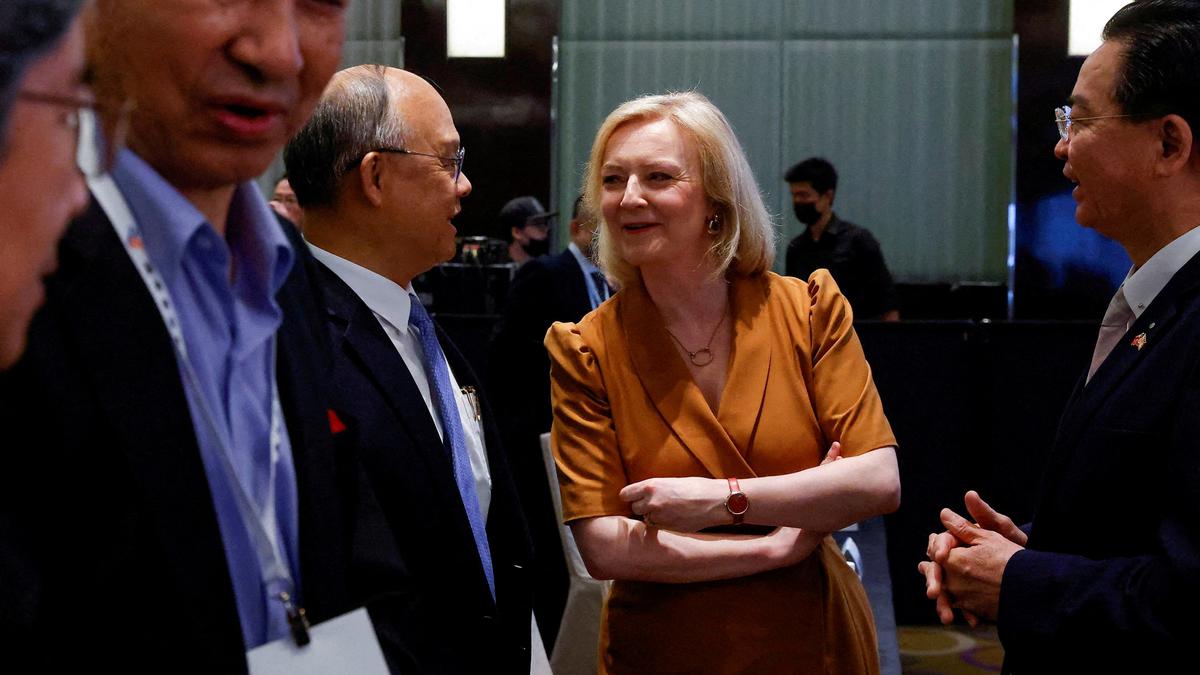 Former British Prime Minister Liz Truss warned of the economic- and political threats to the West posed by China during a visit on May 17 to Beijing's democratic rival Taiwan.
Ms. Truss is the first former British Prime Minister since Margaret Thatcher in the 1990s to visit the self-governing island republic that China claims as its own territory, to be conquered by force if necessary.
Still a sitting member of the House of Commons, Ms. Truss follows a growing list of elected representatives and former officials from the U.S., European Union (EU) nations and elsewhere who have visited Taiwan to show their defiance of China's threats and attempts to cut off the island and its high-tech economy from the international community.
Explained | Why is Taiwan caught between U.S. and China?
"There are those who say they don't want another Cold War. But this is not a choice we are in a position to make. Because China has already embarked on a self-reliance drive, whether we want to decouple from their economy or not," Ms. Truss said in an address to the Prospect Foundation at a hotel in the Taiwanese capital, Taipei.
"China is growing its navy at an alarming rate and is undertaking the biggest military build-up in peacetime history," she said.
"They have already formed alliances with other nations that want to see the free world in decline. They have already made a choice about their strategy. The only choice we have is whether we appease and accommodate — or we take action to prevent conflict," Ms. Truss said.
Elsewhere, Ms. Truss praised her successor, Rishi Sunak, for describing China as "the biggest long-term threat to Britain" in comments last summer and for urging the closure of Chinese government-run cultural centres known as Confucius Institutes, which have been criticised as outlets for Communist Party propaganda. Such services could instead be provided by people from Taiwan and Hong Kong who come to the United Kingdom without government backing.
China's relations with Britain and most other Western democracies have been in steep decline in recent years, largely as a result of disputes over human rights, trade technology and China's aggressive moves toward Taiwan and in the South China Sea.
Beijing's relations with London have been especially bitter over China's sweeping crackdown on free speech, democracy and other civil liberties in Hong Kong, a former British colony that was promised it would retain its freedoms after the handover to Chinese rule in 1997.
China has said a key previous bilateral agreement on Hong Kong no longer applies and has rejected British expressions of concern as interference in China's domestic political affairs. China has also been angered by a joint Australian-U.S.-British agreement known as AUKUS that would provide Australia with nuclear-powered submarines in part to counter the perceived rising threat from China.
Ms. Truss, who served an ill-fated seven weeks as Prime Minister last year, also said China could not be trusted to follow through on its commitments in areas from trade to protection of the environment.
And she praised Taiwan as "an enduring rebuke to totalitarianism" whose fate was a "core interest" to Europe.
"A blockade or invasion of Taiwan would undermine freedom and democracy in Europe. Just as a Russian victory in Ukraine would undermine freedom and democracy in the Pacific," Ms. Truss said. "We in the United Kingdom and the free world must do all we can to back you," she said.
Ms. Truss' remarks also stood in stark contrast to published comments from French President Emmanuel Macron last month that elicited doubts about whether Mr. Macron's views were in line with other European countries on Taiwan's status.
"The question we need to answer, as Europeans, is the following: Is it in our interest to accelerate (a crisis) on Taiwan? No," Mr. Macron was quoted as saying in the interview. "The worst thing would be to think that we Europeans must become followers on this topic and take our cue from the U.S. agenda and a Chinese overreaction."
Shortly afterward, Mr. Macron denied any change on France's views toward Taiwan, saying, "We are for the status quo, and this policy is constant."