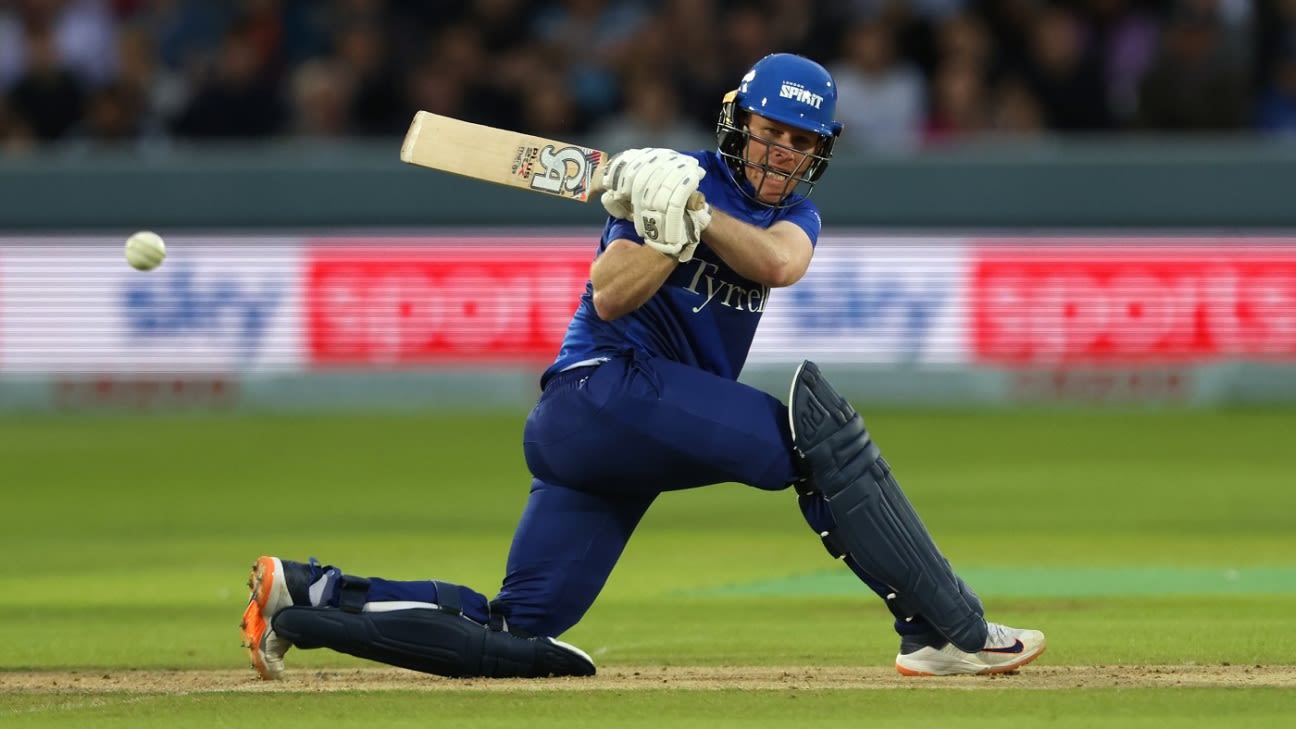 News
Middle order failing to fire, absence of three members of Test squad, Maxwell's relatively late withdrawal hurt winless London Spirit
Few pundits backed London Spirit for the title in the inaugural season of the men's Hundred but nobody whose memory stretched as far back as 2008 was willing to write them off. Playing in blue from head to toe, with Shane Warne as head coach and an unfancied squad? There were enough parallels with the Rajasthan Royals side that won the first-ever IPL to suggest they might just pull something improbable out the bag.
But five games into their first season, the Spirit have been the Hundred's weakest side. They are the only side in the men's competition yet to win a game, and were thrashed in their fourth and final home fixture (one was a washout) by Northern Superchargers on Tuesday night. The table is still tight enough that they are mathematically in the running, but any realistic chances of qualifying for knockout stages have dissipated.
Their first three defeats were all tight, with each game going down to the final set of five balls. At Edgbaston, they were just short of par in setting Birmingham Phoenix 145 to win, and in the home losses against Trent Rockets and Southern Brave, they were two boundaries away from getting across the line.
"There was a sense of frustration in the fact that we didn't get over the line having felt that we'd played well for the majority of the game," Eoin Morgan, their captain, said on Tuesday about the defeat to the Brave . "To not capitalise on our opening partnership was really frustrating.
"I think throughout tournaments, and group stages, you will be beaten by better sides. There are very few instances when sides go unbeaten throughout a tournament. Where the problem for us lies is that the previous two games we played, we played well for the majority but in clinical parts of the game, we didn't finish the job and that's hurt us."
Perhaps the most puzzling aspect of their struggles has been the fact that the squad they assembled does not look like it was built with the long term in mind. While some sides have openly admitted that their draft strategy was to assemble a group that could develop over a number of years rather than simply targeting success in the Hundred's first season, the Spirit picked a number of veterans and looked – to borrow terminology from the NFL – like a 'win-now' team.
Their middle order, which has failed to fire throughout their four defeats, has not pulled its weight despite the wealth of experience within it. At 34, Morgan was the junior man from No. 4-8 in Tuesday's defeat, with Joe Denly (35), Ravi Bopara, Mohammad Nabi and Roelof van der Merwe (all 36) coming in behind him. All five have struggled badly for form: Zak Crawley made more runs in his only innings of the tournament than any of those five managed across four innings each.
Of course, there are mitigating factors for the Spirit, most notably the absence of three members of England's Test squad in Crawley, Dan Lawrence and Mark Wood – who did not even link up with the Spirit for the first two games, instead focusing on his preparation for the first Test against India.
All three players were signed as part of the draft in October 2019, rather than through the separate Test player mechanism. None of them held a red-ball central contract at the time – Crawley and Lawrence were both uncapped – and while it was not out of the question that they might miss some games due to inclusion in a Test squad in future seasons, the Spirit were unfortunate to miss all three simultaneously for the majority of this year. To make matters worse, one of the two games for which Crawley and Lawrence were both available was washed out.
"I think every team has gone through it, losing players, particularly their Test guys," Morgan said. "It's been challenging, but other sides have found a way. We've recruited well, we just haven't managed to get over the line.
"We haven't done a lot of things wrong in the previous games that we've played. Every game we'd played had gone right down to the wire but to be up there with the pace, you're doing a lot of positive things. Today [against the Superchargers], we were just beaten."
Their overseas players have been something of a letdown. Mohammad Amir was among the world's leading T20 seamers at the time of the initial draft, and while they were under no obligation to retain him, the Spirit could not have expected his form to tail off as dramatically as it has; his 77 balls in the competition to date have cost 132 runs, and he has taken only three wickets.
Nabi's offbreaks have been economical but he is yet to contribute with the bat, while Josh Inglis has struggled to translate his T20 Blast form with Leicestershire into runs in the Hundred. Their biggest miss was Glenn Maxwell, a relatively late withdrawal and the best batter in their initial squad by a long way – his offbreaks would also have helped the balance of the side.
But the upshot is that the Spirit are the first men's team facing a post-mortem into a season that has represented something of a false start. Mason Crane and Blake Cullen have shown flickers of promise with the ball, but positives for future years have been relatively hard to come by. Warne, who missed their last two games after testing positive for Covid-19, tweeted from self-isolation that their defeats against the Rockets and the Brave had been "embarrassing" – his verdict on the season to date is unlikely to be any more favourable.
Matt Roller is an assistant editor at ESPNcricinfo. @mroller98