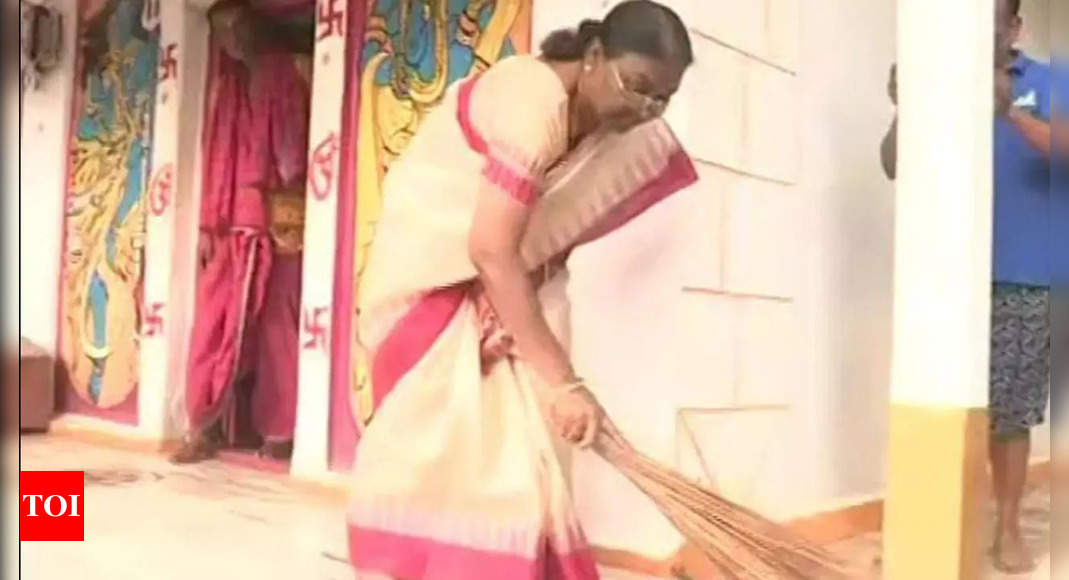 BHUBANESWAR: A day after the Bhartiya Janata Party (BJP) named Droupadi Murmu as its presidential nominee, she won massive applause from people for sweeping the floor of a temple in Raiangpur township of Mayurbhanj district, where she ordinarily resides.
The Santal tribal leader visited at least three temples in Rairangpur early in the morning. She was seen sweeping the floor of Purnandeswar Shiv temple before offering her prayers there.
#Odisha: NDA's presidential candidate #DroupadiMurmu sweeps the floor at Shiv temple in Rairangpur before offering… https://t.co/M437NoytkO

— TOI Bhubaneswar (@TOIBhubaneswar) 1655872680000
"It shows the leader's simplicity and modesty. None could have been a better candidate than her for the Presidential post. It's a proud moment for Odisha and the tribal community in the country," said state BJP president Samir Mohanty.
It is so typical of Odia women to sweep the streets in front of their houses and temples while visiting there. The culture remains ingrained in her, Mohanty said.
Murmu also visited Prajapita Brahma Kumari Ishwariya Vishwa Vidyalaya in Rairangpur and offered prayers there.
Jayant Mohapatra, a retired professor of political science, said Murmu stands out among politicians. "Her simplicity and humility are noticeable. It sends a very positive message to the world," he said.
"I feel proud as a woman. She is so cultured. Her selection for the President post is a befitting tribute to all the women of India," said Reena Mahakud, a homemaker in Bhubaneswar.
ଦେଶର ସର୍ବୋଚ୍ଚ ପଦବୀ ପାଇଁ ଏନଡିଏ ପକ୍ଷରୁ ପ୍ରାର୍ଥିନୀ ହୋଇଥିବା ଶ୍ରୀମତୀ ଦ୍ରୌପଦୀ ମୁର୍ମୁଙ୍କୁ ମୋର ଅନେକ ଅନେକ ଶୁଭେଚ୍ଛା ଏବଂ ଅଭିନ… https://t.co/RtewgLZw1W

— Dr. Amar Patnaik (@Amar4Odisha) 1655867152000
A huge crowd of well-wishers gathered at here residence in Raiangpur on Wednesday. Congratulatory messages poured in for Murmu. Taking a cue from chief minister and BJD president Naveen Patnaik, many of his colleagues congratulated the tribal leader. "I extend my heartiest congratulations and good wishes to Droupadi Murmu for being chosen NDA candidate for the country's highest post. It's a proud moment for Odisha," BJD Rajya Sabha member Amar Patnaik tweeted.