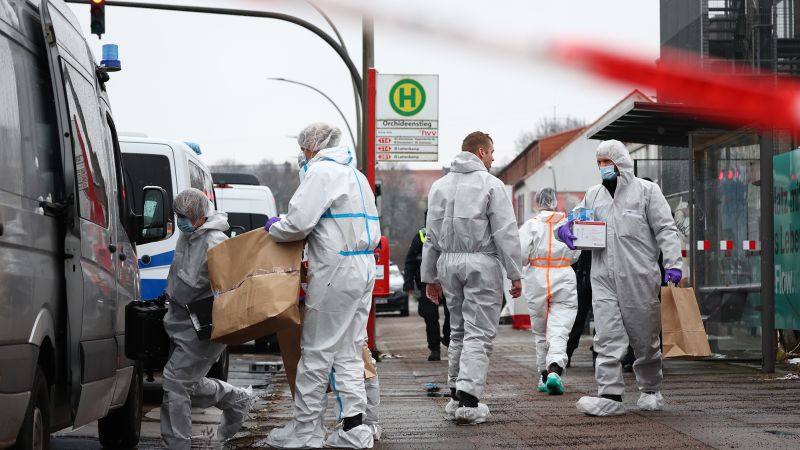 CNN
 — 

Germany was in shock on Friday after a gunman killed six people as well as an unborn child at a Jehovah's Witnesses center in Hamburg, before turning the gun on himself as police stormed the building.
The attacker, a 35-year old German national, was a former member of the Jehovah Witnesses community, according to Hamburg's state prosecutor.
German police are still searching for a possible motive after the shooter opened fire on an event attended by 50 people on Thursday evening. "Hamburg has never seen a mass shooting like this," Interior Minister Andy Grote said at a press conference on Friday.
The gunman acted alone, Grote said. "There could have been more victims if police had not intervened so quickly," he said.
The mother of the unborn baby that was killed survived her gunshot injuries, Hamburg police chief Matthias Tresp told reporters. Police said that four men and two women – all German nationals between the ages of 33 and 60 – died in the attack.
Eight people were wounded, four of them seriously. Police said that among them are six women and two men; six are German nationals, one injured person is from Uganda and one from Ukraine. The victims are not related to the suspected perpetrator, Tresp said.
The suspect left the Jehovah's Witnesses community about 18 months ago, "apparently not on good terms," Thomas Radszuweit, a Hamburg security official, told reporters Friday. He was a 35-year-old German national, identified only as Philipp F. in line with German privacy laws.
Philipp F. was a former member of the Jehovah's Witnesses, but it is unclear if he was excluded from the community or left voluntarily. The suspected shooter was not previously known to authorities in Hamburg, according to Radszuweit. Why the suspect went on the shooting rampage is as yet unknown, he added, and there is no indication of a political motive.
Meanwhile Ralf Peter Anders, spokesman for the Hamburg prosecution's office, said there was "no indication of a terrorist background" to the attack.
Ralf Martin Meyer, Hamburg's chief of police, said investigations were ongoing into the mental state of the suspect, adding that it was possible the suspect suffered from mental illness. Meyer said he had been in legal possession of a semi-automatic pistol since December 2022. During the attack the gunman shot nine magazines of ammunition.
Messages of condolence poured in from politicians and religious leaders, with German Chancellor Olaf Scholz denouncing the "brutal act of violence."
Police were called to the scene at 9:04 p.m. local time (3:04 p.m. ET) Thursday night, Grote said. The first teams arrived at 9:08 p.m. and entered the building three minutes later.
The Jehovah's Witnesses in Germany said in a statement: "The religious community is deeply saddened by the horrific attack on its members at the Kingdom Hall in Hamburg after a religious service."
One unidentified witness described the moment the shots rang out in the Thursday evening attack. "We heard shots," they said as quoted by Reuters news agency. "There were 12 continuous shots. Then we saw how people were taken away in black bags."
A neighbor of the Jehovah's Witnesses center in Hamburg told CNN affiliate RTL Germany Friday: "I heard … Bam, bam, bam, bam, bam. And I wondered, 'who is still working with the jackhammer now?' That was my first idea because you don't hear any gunshots [around here]."
Another neighbor told RTL: "We were not at home at all. Our son called us that there had been a shooting across the street at the Jehovah's Witnesses and he had even filmed parts of it, thinking it was a scare gun."
Chancellor Scholz led politicians in denouncing the murder spree in the northern German city.
"Several members of a Jehovah community fell victim to a brutal act of violence last night. My thoughts are with them and their loved ones," he wrote on Twitter.
He later said the country has been left "stunned" by the shooting. Speaking at a trade fair in Munich Friday, the German chancellor highlighted the devastating impact of the "terrible incident" which occurred in his hometown of Hamburg. "We are stunned by this violence," Scholz said.
EU Commissioner for Home Affairs Ylva Johansson expressed her sorrow, writing on Twitter: "A shocking attack on a church in GrossBorstel, Hamburg last night. My thoughts are with the victims and their families.
"Thanks to @PolizeiHamburg who responded to the attack immediately and with incredible bravery."
French President Emmanuel Macron also expressed his condolences. "Terrible news from Hamburg," he said on Twitter Friday. "I send France's condolences to the relatives of the victims and to all our German friends. Our thoughts are with them."
Footage from the scene on Thursday night showed numerous armed police officers inside and around the Kingdom Hall while a helicopter flew overhead. A bomb disposal team was deployed at one point.
The streets around the place of worship were cordoned off, and police earlier warned of "extreme danger" in the area, the spokesperson added. Local residents were urged to stay indoors.
There is "no confirmed information on the motive for the crime," police said on Twitter as they urged people not to share any unconfirmed assumptions.
Messages of support also came in from Hamburg's religious communities.
"The news of this bloody crime in Hamburg-Alsterdorf is shocking and leaves me speechless… My deepest sympathy goes to the relatives of the victims," Father Sascha-Philipp Geissler, a senior member of Hamburg's Catholic diocese, said in a statement.
Shootings in Germany are not unheard of, though rarer than in the United States. According to statistics published by the country's National Firearms Register in 2013, Germany has, per capita, the fourth-highest gun ownership of any nation. However, its strict laws mean they are largely kept out of the public eye.
German citizens require a weapons possession card to own or buy a gun and a weapons license to use or carry a loaded gun. Hunters do not need a weapons license as long as they have a hunting license.
Gun control laws in Germany have been further tightened in recent years after several shooting incidents. A new Weapons Act was introduced in 2003 after a school shooting in Erfurt that left 16 people dead.
In January 2022, at least one person was killed after a man opened fire on students in a lecture hall at Heidelberg University in southwestern Germany.
And in 2020, a mass shooting at two shisha bars in Hanau killed several people.
Clarification: This story has been updated to clarify the number of victims after further information from police – six people and an unborn child.