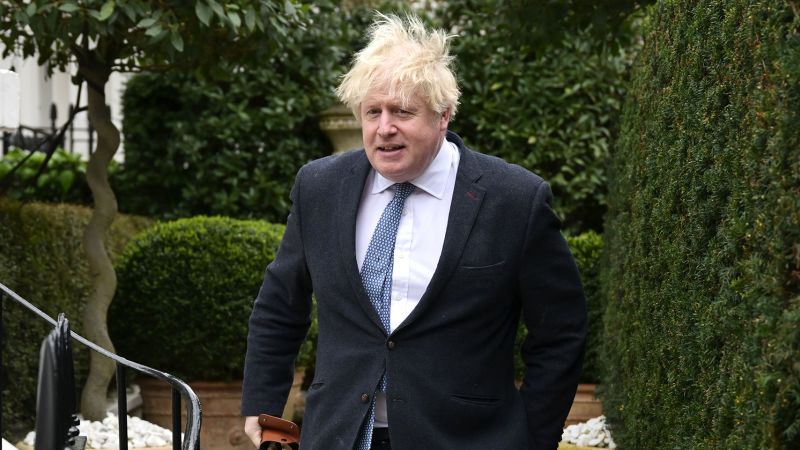 London
CNN
 — 

Boris Johnson will on Wednesday hit back at claims he deliberately misled parliament while serving as British prime minister.
The former UK leader will give evidence to a parliamentary committee that is investigating Johnson's claim that Covid-19 rules and guidelines were followed "at all times" during his time in 10 Downing Street.
Johnson has already admitted in written evidence submitted Monday that he accepts the comments, made to parliament in December 2021, were misleading, but denies that he made them intentionally and claims that at the time he had been given assurances by trusted aides that no rules were broken.
Subsequently, London's Metropolitan Police have issued more than 100 fines to people who worked in Downing Street for breaches of pandemic regulations at times the country was under varying degrees of lockdown.
Some of these breaches took place at gatherings where people were drinking alcohol, hence the nickname for the whole scandal, "Partygate." Johnson, who resigned last July following a series of ethics scandals, was fined for attending one such gathering, where he was presented with a birthday cake.
Central to Johnson's denial is his rebuttal of the committee's suggestion that it would have been "obvious" to the former prime minister that guidelines and rules were being ignored.
The committee's most recent report on the investigation says that the evidence "strongly suggests that breaches of guidance would have been obvious to Mr. Johnson at the time he was at the gatherings."
Johnson hit back that if it had been obvious to him, then it would have been obvious to everyone else in the photos of said events that the committee has published as part of its evidence. He also noted that many of the pictures were taken by the official Downing Street photographer.
"Four of the five photographs relied upon by the Committee are photographs from the official No. 10 photographer. A suggestion that we would have held events which were 'obviously' contrary to the Rules and Guidance, and allowed those events to be immortalised by the official photographer is implausible," Johnson said in his written evidence.
Johnson also claimed that the committee and its reports on the matter have been biased, saying it's "important to record my disappointment at the highly partisan tone and content of the Fourth Report."
Johnson's written evidence, 52 pages in total, is peppered with additional claims and evidence that he believes proves that he could not have known of any illegality in Downing Street when he made the misleading statement to parliament.
The crucial question will be whether or not the committee believes it is plausible that Johnson – who was pictured at events where guidelines were clearly not being followed – sincerely believed that nothing wrong had happened.
This is not an investigation into whether or not rules were broken: They were, Johnson has admitted so. It is not an investigation into whether Johnson made an incorrect statement to parliament: He has accepted he did and corrected the record.
The key issue is whether or not he truly believed no rules or guidelines had been broken when he told parliament that was the case.
It is an opaque question that will ultimately never have a conclusive answer, short of an open admission from Johnson. And to some extent, it doesn't actually matter if Johnson can convince the committee members one way or the other. What will ultimately matter is how badly the committee chooses to punish Johnson, should it find him guilty.
If he is found guilty, it is generally accepted that there are three possible sanctions.
The first is that Johnson gives an apology to parliament. The second is that Johnson is suspended for fewer than 10 sitting days. The third is the Johnson is suspended for more than 10 sitting days.
An apology would be embarrassing but have few consequences beyond his humiliation. The suspensions are where things get complicated. Both would require a vote in parliament, but the longer suspension could also mean a recall election, at which Johnson could very realistically lose his seat.
A vote on Johnson's fate could lead to a bitter argument within the governing Conservative party. Some (though a minority) on the Conservative benches still swear loyalty to Johnson. Others wish he would just go away.
The committee of seven lawmakers is comprised of four Conservatives and three opposition members of parliament (MPs). The Conservative majority, if sufficiently persuaded by his evidence, could aim for a softer recommended sanction. Johnson might also hope his evidence packs enough of a punch that the opposition MPs lean toward a softer sanction to temper claims of a partisan witch hunt.
The committee will not give its final report for at least a month.