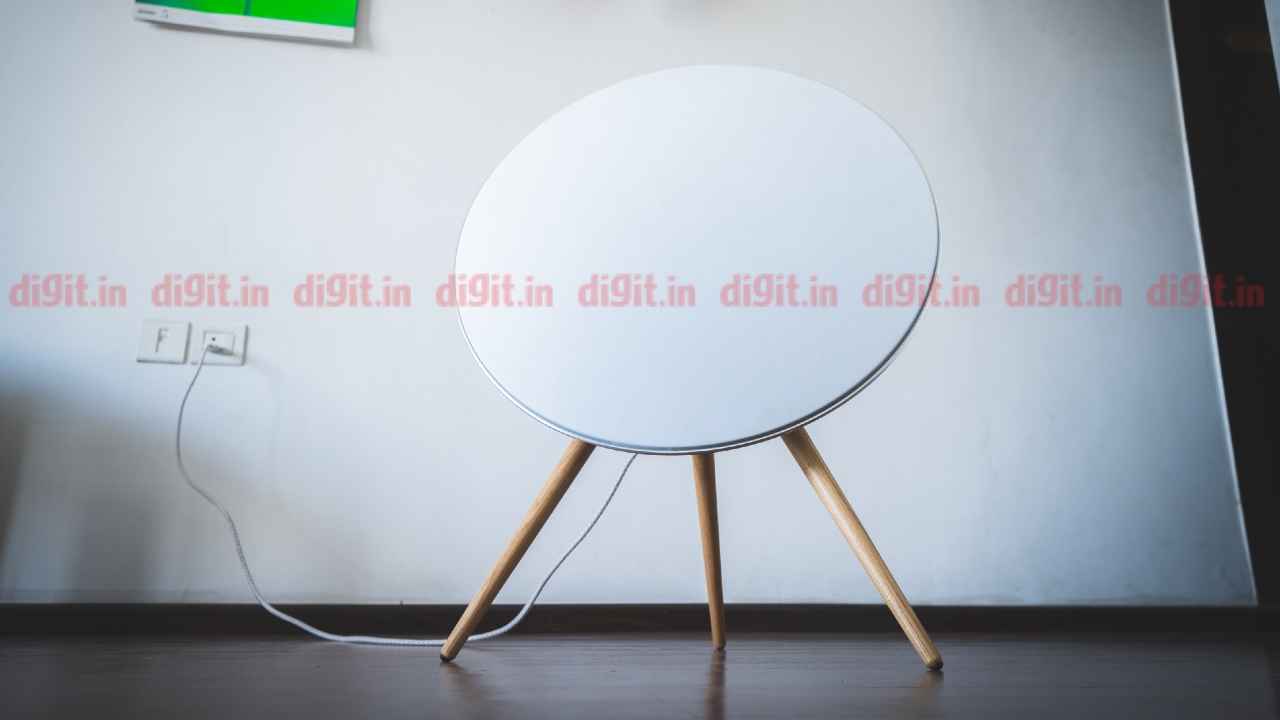 I have used many smart speakers over the years, but I recently received the super-premium Bang & Olufsen BeoPlay A9 4th gen that changed the way I look at smart speakers. You can't even compare it to Google Home and Amazon Echo speakers because of their size, audio quality, purpose and price.
Those who've heard of the Danish brand Bang & Olufsen know that the company is known for high-end designer consumer electronics with an extraordinary focus on design and aesthetics. Not just that, another presumption that strikes the name is the premium price. Bang & Olufsen serves the demand for luxurious design aesthetics with high-end tech and targets those who don't mind paying a premium for it.
The BeoPlay A9 4th Gen costs Rs 2,50,000 in India, and that immediately cuts off the scope of comparison with the majority of smart speakers. So in this review, we'll talk more about its experience, who it is for, and if the audio performance justifies the premium price. 
Bang & Olufsen BeoPlay A9 4th Gen: Design
Ever since smart speakers became a thing, design has been considered an important element. That makes sense because tech feels better, in general, when merged with a good design, and in the case of smart speakers it gets even more important as it's always in front of your eyes.
With this speaker, Bang and Olufsen pushed this belief to a much higher standard. The BeoPlay A9 is the most unique-looking speaker, I can affirm that as I shared a picture of this speaker on my Instagram and out of 200 people who saw it, only one could guess that it was a speaker. That's also because the person had tripped over the design before. Some thought it was a mirror, some were sure it was a reflector, but many just couldn't figure it out.
Its uniqueness makes it eye-catching, but that's an understatement as many art and design nerds also approved of its elegance and beauty. It literally looks like a piece of modern art with minimalism all around. It can blend in any modern home with a kind of minimalism that begets attention. 
The speaker has two major parts – the circular speaker panel and the wooden legs. Assembly is straightforward, you just have to screw three beautiful oak wood legs into the body. The legs are subtly marked with A and B, where leg A fits in the centre and B goes left and right. There's also a body-coloured panel on the back that hides the ports giving it a seamless look. You can also wall mount this speaker, which makes it look like a convex mirror you find on blind turns.
It is 90cm tall, and the speaker is 70cm in diameter and weighs close to 15Kgs with legs, which means it's not portable. However, you get a sunken handle at the back, which makes it easy to grab, pick and move inside the house.
The front is covered in a wool-like fabric circled with a chrome ring resting on oak wood legs. This combination gives it a clean, furniture-like feel. It comes in six colour tones where the ring, legs and fabric are mixed and matched. We got the white variant with oak legs and a white fabric cover.
The downside of the white variant was evident right after we unboxed it, one of the visitors at home touched it and immediately left a dirty thumbprint. So you have to keep your pets away and try not to touch the fabric to keep it clean. It's tough to clean, and you can replace the cover, but it's another 50 Euros (approx Rs 4,300), so getting a darker variant might be a better idea.
Bang & Olufsen Beoplay A9 4th Gen: Audio performance
Despite reviewing a ton of speakers, it was difficult for me to know what to expect from a speaker that costs Rs 2.5 lakh. I have used premium soundbars and speakers in the past, but this is the most expensive home speaker I've tested, so my expectations were sky-high and so should yours since you're paying a premium.
It packs 2 x 3/4-inch tweeters, 2 x 1 1/2-inch full-range driver units, 2 x 3-inch midrange driver unit and an 8-inch woofer. The woofer is powered by a heavy 160-watt amplifier. The total power output of all these drivers combine to offer 480 watts, which is massive for a house of any size and I could feel that while using it. So, the first thing to tick off the list is the loudness, if that's something you worry about. It gets VERY loud, irrespective of the source you're using to play the audio.
Apart from the glass-shaking loudness, there's a lot more impressive engineering packed inside. It has an Active Room Compensation feature that is advertised to adapt the audio output as per space. I did find the feature working as we shifted the speaker to different rooms. I'm not sure if it's better than the manual calibration that some high-end speakers offer, but it does adapt the sound, and it can be clearly felt.
In terms of the quality of audio, the BeoPlay A9 shines again. It claims an effective frequency range from 33Hz to 23000Hz, whereas a human can hear up to 20Hz, which ideally has an impact on paper for low frequencies, but my ears couldn't make that out, much like most humans. If you like your bass warm, filling and powerful like me, you will love this. More so because it is clean and doesn't dampen the mids and highs, even at high volumes. 
I played 'The Lemon Song' by Led Zeppelin to listen to one of my go-to bass solos, and it was just as good as I expected. I also tried a rather modern sound with Calvin Harris' 'Feels', which has a peppy funk tune combining drums, bass guitar mixed with electro samples and the output was just right for a premium speaker.
It does, however, struggles with high frequency when the volume crosses 90%, and you're close to the speaker, but moving to a different room will fix that too.
Mids and highs like vocals, guitar riffs at normal volume sound beautiful. The soundscape is deep and open, so you will have full sound no matter which room it is placed in. Additionally, you get to tweak the equaliser as per your preference using the companion app.
Apart from music, I paired it with my TV to watch movies and I realised it's a perfect replacement for a soundbar, although not the best one for directional sound.
While it is a power-packed speaker, an audiophile might find it hard to accept the high price tag. Remember, the premium you pay is not just for the functionality, but also the grandeur associated with the name and the design. If audio is the only concern, then you can certainly save a lot of money and get a similar-sounding speaker system at one-third of its price, but its artistic form is unmatchable.
Using it as a smart speaker?
The setup process of the speaker is pretty straightforward, but I struggled to set it up initially – first with the Google Home app where it failed to appear in the available devices for some time and then the B&O app where it just didn't show up on the first day.
However, once set up, it functions just like any other smart speaker, operating on Google Assistant. You can ask it to play songs, listen to the news, podcasts, check the weather, control compatible appliances and more. I eventually turned off the Google Assistant using the option as it got a little annoying when you accidentally trigger the assistant. Unlike other smart speakers, this one is very loud and listening to the Google Assistant chime at that volume, and you can't immediately turn it down isn't something most people want.
The mic performance is good unless you turn the volume over the 40-50 mark. After a point, it gets so loud that you will either have to shout at the top of your voice to control it. On the first day I set up the BeoPlay A9 4th gen, ask it to play a song and turned up the volume to 8 and the next thing I remember is running towards the speaker to pull the power plug. It got loud, wasn't catching commands, and I wasn't aware of the physical controls till then. You can also buy a Beo Remote One or Halo separately, but that's another massive expense. 
Yes, there are physical controls hidden at the back of the speaker which can be used to control the volume and tracks.
Connectivity
For a premium speaker, we expect all the popular connectivity options to be available. The highlight is that the speaker comes with a built-in Chromecast for Android devices and Apple AirPlay 2 support. It also has DLNA in case you need a tethered connection apart from Bluetooth, Aux and Wi-Fi. Although, these options might suffice for most users, not including NFC and HDMI was a bummer for me. The app available to help you with controlling your speaker is a little problematic in places. However, once you get used to the functionality, you shouldn't have a problem. The only connectivity issue I faced during my experience was while pairing the speaker on the B&O companion app. Otherwise, everything else behaved just how it is supposed to.
Verdict: Not your ordinary premium speaker
Delivering the verdict for this speaker is rather easy for me as it is hard to find an alternative that fills the space the BeoPlay A9 has created for itself. Also, at Rs 2,50,000, it is not everyone's speaker as it targets those who want a balance of form and functionality that oozes luxury.
If you're someone who likes everything top-notch and classy and can spend a small fortune on it, this speaker won't disappoint. It will bring the house down at a party, do everything a smart speaker does, and can be a replacement to your soundbar while enhancing the decor of your home.
However, if audio performance is the only concern and design is secondary, you will find alternatives that are much more affordable.