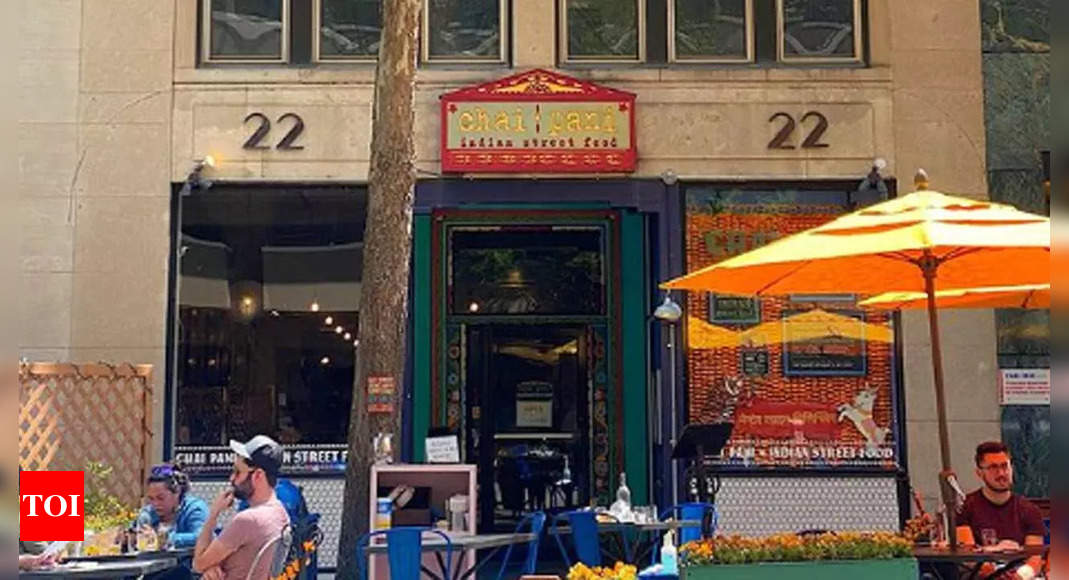 WASHINGTON:
Chai Pani
, an Indian street food eatery in Asheville, North Carolina, has won the coveted
James Beard Award
for the most outstanding restaurant in
America
, giving a boost to a cuisine that has long been a sideshow in global gastronomy.
Also on the winners board on Monday was Washington DC's Ashok Bajaj — whose Knightsbridge Restaurant Group owns Rasika and
Bindaas
among other restaurants in the US Capital. Bajaj was recognized with the Outstanding Restaurateur award.
New York's City's Dhamaka lost out to Minneapolis' Owamni, a native American eatery, in the best new restaurant category, but Dhamaka's chef Chintan Pandya won the best chef in New York state award.
The James
Beard
award, Oscars of the culinary world, returned with much fanfare at a ceremony in Chicago after two years on ice due to the pandemic and an ethics turmoil in the US culinary world, with allegations of lack of diversity. The awards were established more than 30 years ago, shortly after "pioneer foodie" James Beard's death, "to celebrate, support and elevate the people behind America's food culture."
Called the "Dean of American Cookery" by The New York Times in 1954, Beard was the host of "I Love to Eat," the first food program on network television in 1946.
Chai Pani's owners, chef Meherwan Irani and his wife Molly, closed their restaurant for two days to travel to Chicago to accept the award, acknowledging the hard work and effort of their staff, who they credited for earning the honors.
"Restaurants are so much greater than the sum of what's inside the four walls. A restaurant has the power to transform — transform the people that work there, transform the people that come in, transform the communities we're in, transform society. Restaurants can transform the world," Irani, whose journey has taken him from "Bombay to Buncombe", the county where Asheville is located, said.
Established in 2009, Chai Pani literally means "tea and water," but it is more of a slang in India for going out for a cup of tea, a tasty bite, a snack, or "a little something" the owners explain on their website, calling their cuisine "mindblasting."
Indian cuisine, diverse and varied, has long struggled to establish itself beyond the standard butter chicken-naan fare and $ 9.99 all-you-can eat buffets in an America of increasingly sophisticated palates.
In recent years though there has been an explosion of Indian restaurants beyond Punjabi fare, showcasing both India's culinary diversity and refinement.
Indians restaurants that have come in for high praise in recent years include Ritu's Indian Soul Food (formerly Dum) in San Francisco, Bindaas in Washington DC, and the Mahindras-backed Indian Accent in NYC.
Given the high casualty rate for restaurants in US, some, like Tiffin Asha in Portland, Pondicheri Cafe in NYC, and Spice to Table in Atlanta shut down despite attracting rave reviews. But they served to demonstrate that Indian cuisine goes beyond tandoori chicken and masala dosa.
"Ten years ago, Indian restaurants here were all the same. Now you've got young chefs cooking what they grew up eating at home," Rupam Bhagat, the creative force behind Ritu, which also owns a popular food truck, told Food and Wine magazine.
America eats out on a gigantic scale, with nearly 44 percent of all food spending, amounting to $931 billion, on food away from home (before the pandemic). According to the US Bureau of Labor Statistics, the average US household spends approximately $ 3500 annually on in-restaurant dining, fast food, and take-out. Indian food is starting to get more than a nibble of that.