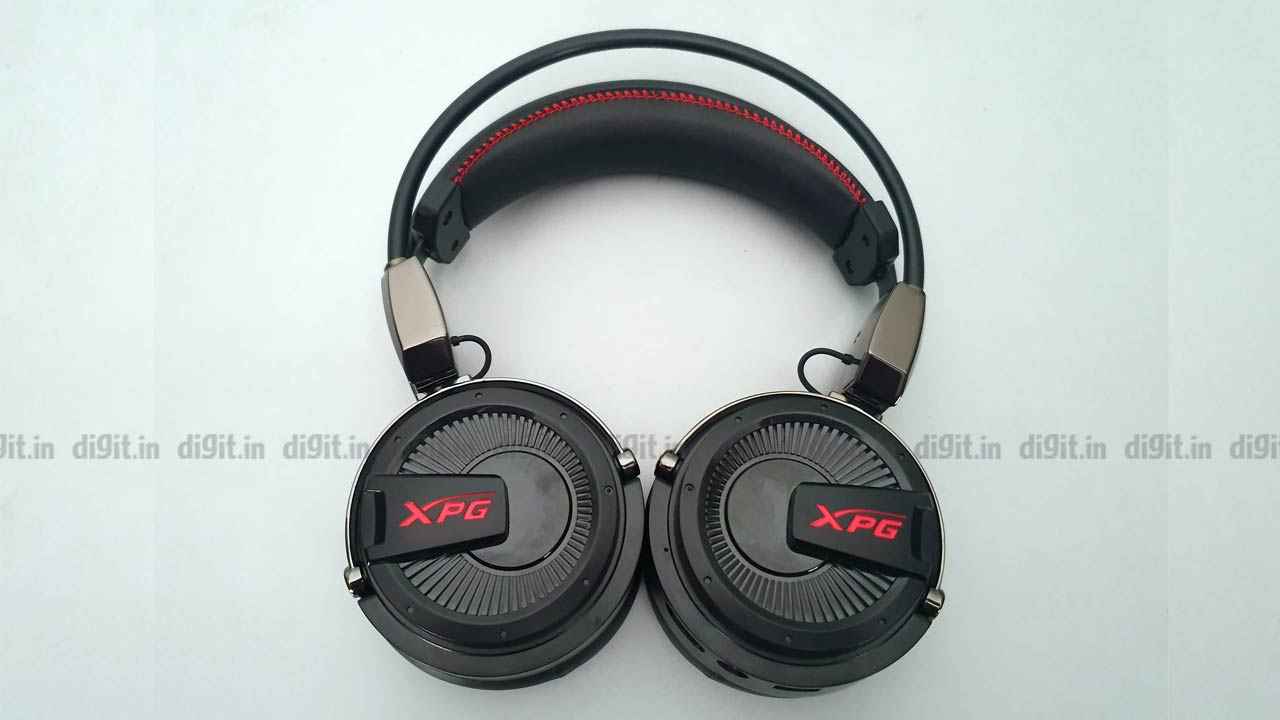 Verdict
Featuring dual electrostatic dynamic drivers, the ADATA XPG PRECOG features a bold, edgy design with red LED lighting, giving it an overall premium look. Angled memory foam ear cushions ensure an insanely comfortable and snug fit for most people, except for ones with smaller heads. It is a powerful headset for gaming that features cross-platform compatibility which includes everything from your PC and consoles to the Nintendo Switch and even mobile phones. The sound quality across modes – FPS, 7.1 Surround Sound and Music – is competent. However, the treble-heavy FPS mode can make video games sound bleak. Nevertheless, the XPG PRECOG has a lot to offer, in all likeliness, you won't be disappointed by the overall performance.
ADATA XPG PRECOG detailed review
Xtreme Performance Gear (XPG) by ADATA launched the XPG PRECOG wired gaming headset which is allegedly the world's very first dual-driver gaming headset featuring a pair of electrostatic transducers. Apart from the electrostatic drivers, the headset also incorporates two 40mm dynamic neodymium drivers for bass response. Gamers can also pick from various modes such as Surround Sound, FPS and Music as per situational needs. So, how do the hybrid system and modes translate in real life while gaming? Let's find out.
In the box
​Hard carrying case

USB Type-C wired controller with DSP sound card

3.5mm wired cable with in-line controller

Type A to Type C cable

Y-cable splitter cable

XPG PRECOG gaming headset
Build and design
The packaging that the XPG PRECOG comes in screams 'gamer' with its red and black colour tones and accents. The hard carrying case is more simplistic in this regard, sporting a matte black finish all across. It feels extremely sturdy and robust, however, is large enough that you will need a sizeable backpack to carry it in. 
Once you unzip the carrying case, you will be greeted by the headphones themselves. If you ignore the headphones temporarily, you will see a few distinct pouches that incorporate several cables within them which ensure cross-platform compatibility, be it your PC, laptop, console, or smartphone. Firstly, there's a USB Type-C cable which features an inline amplifier and DAC. In case, your PC or laptop doesn't have a Type-C port, the good guys at ADATA have also included an extension cable that converts the Type-C into a Type-A.
For hi-res audio or if you simply want to go down the more traditional route and use an audio jack, there's a braided 3.5 cable included as well which can plug into pretty much everything (apart from those pesky phones that have removed the 3.5mm jack). You also get a Y-cable splitter cable that hooks up the microphone and headphones separately. We really appreciate how ADATA went above and beyond to ensure that the gaming headset can be utilised on just about any device you can get your hands on today. +1 for being extremely utilitarian. 
Now, let's lay eyes on the gaming headset itself, which we wouldn't exactly term 'gorgeous' or 'stylish' but 'eye-catching'. The XPG PRECOG is striking in appearance and fits right in with the aesthetics appreciated by gamers. It features a dark tone electroplating finish over aluminium. The headband is bordered with a braided material that is red and black in colour. There are two protruding pipe-like cables above the headband that give the headset some extra height and add to the aesthetics of the unique design. 
The headband is completely self-adjusting, which means, all you need to do is adorn it on your head and it will automatically pull out the elasticised extenders as needed when you pull it over your ears. This process is extremely seamless and convenient. We really enjoyed not having to tug at the headphones to get the perfect seal. The headset, on the whole, is extremely flexible and we heard no creeks or squeaks when we extended them fully.
On the ear cups, multiple groves are present going around in the circular shell. The XPG logo is stamped on the cup in red and beneath the aforementioned grooves, there's a red LED that is toggleable via the inline controller on the USB-C cable.
The cups can also be folded 180 degrees and are slightly angled to offer a better fit. On the bottom of the left ear cup lies the USB Type-C port, 3.5mm jack and microphone port. While most of us at the test labs found the XPG PRECOG extremely comfortable and snug over the head, the reviewer suffered from a slightly lacklustre clamping force due to smaller head size. 
Overall, if you have an average size or large head, this gaming headset should be extremely comfortable to wear, even over long gaming sessions, since there's ample soft and pliable cushioning on both, the ear cups and the headband. The ergonomics of this headset impressed us to quite an extent.
Features
Apart from the convenient cross-platform connectivity feature, the XPG PRECOG has quite a few additional tricks up its sleeve which will interest gamers. There are a total of three sound modes including 7.1 Surround Sound mode, FPS (First Person Shooter) mode, and finally, Music mode. 
Surround Sound mode gives you a sort of simulated wide soundstage which can make gameplay sound immersive and expansive. FPS mode is specifically for shooters while Music mode utilises the Hybrid drivers revitalises your music listening experience, as per the company. The DSP sound card also offers ENC or environmental noise cancelling for the microphone, which is a boon for gamers since it cancels out external sounds.
The headset is also Hi-Res Audio certified and you can enjoy this the best with the provided 3.5mm connector which outputs competent sound quality. We will elaborate further below. Additionally, you also have a two-year warranty with this device.
Performance
Featuring dual hybrid drivers (two electrostatic and two dynamic) as well as sound modes such as FPS, 7.1 Surround Sound and Music Modes, the ADATA XPG PRECOG has a lot to exhibit when it comes to sheer gaming performance. They have a lot of quirks, some pleasant and some not so pleasant. 
The 7.1 Surround Sound mode is pretty immersive and you get the impression of a wide and tall soundstage that extends far beyond your head. The tiny nuances such as leaves crackling under a character's feet and bullets firing from a distance were captured quite exceptionally. The difference between someone shooting you from a relatively close range and further out was very apparent and we enjoyed this a lot.
The FPS mode, however, did disappoint us a fair bit. The entire sound profile becomes extremely treble-heavy in FPS mode, therefore, shooter video games lack the required punch and drive in their sound. Directional information too could be improved with a little refinement when it comes to imaging. Overall, we missed the punch and accuracy of sound in this mode and usually ended up shifting to music or surround sound mode even while playing shooters.
The gaming headset is surprisingly great at music reproduction, sporting massive frequency response from 5Hz – 50,000Hz. The sound profile is quite pleasant. The bass is punchy but not overbearing and the highs are quite controlled. We found that the highs distorted slightly at higher volumes, but only when we ventured beyond 85-90 per cent. Soundstage in music is quite good but imaging is lacking, with rock tracks having multiple instruments just sounding cacophonic. 
The microphone on the XPG PRECOG is quite capable, with a frequency response of 20Hz to 20,000Hz. It uses unidirectional pickup and easily captures the full range of your sound. WIth in-built ENC, we found that the headset effectively got rid of most background noise and external sounds that can disturb your teammates when on comms.
Bottomline
At the price point of Rs 12,000 (Rs 10,649 on Amazon India), the XPG PRECOG gaming headset is worth the money spent. You get cross-platform compatibility ensuring that you can use it on almost every device, three distinct sound modes that work well while gaming, watching TV shows or movies and listening to music (as long as you activate the appropriate mode) and overall good sound quality. They're built to last and fit most heads comfortably with their nifty auto-adjusting headband. Despite the FPS mode being less than perfect, we were greatly impressed by the headset's ability to play music and its expansive soundstage that make most titles sound great.